Call for re-think on wildlife funds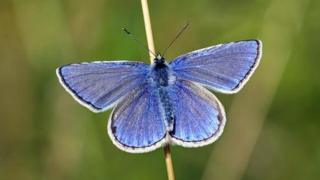 Budget cuts to the UK environment department Defra have prompted one of the country's biggest conservation charities to call for a fresh way of funding wildlife protection.
The Chancellor George Osborne has cut 10% from Defra spending until 2016, on top of the 30% reduction to its budget in 2010.
He promised the biggest chunk of the budget – flood defences – will rise.
But some think that other areas of spending could be in the firing line.
Campaign groups, including the Royal Society for the Protection of Birds (RSPB), fear that wildlife protection could be hit.
Martin Harper, conservation director for the RSPB, said: "These latest cuts signal the urgent need for a sea change in the way we protect wildlife. If the government will not pay for environmental protection in the same way in the past then we need to think hard about how we reverse wildlife declines."
He called on charities, businesses and landowners to contribute – but said the government should lead by example by making sure than new infrastructure projects like roads and bridges are planned with wildlife in mind.
"Clearly Defra is not alone in suffering cuts on this scale and with the economy in the shape it's in it we would be foolish not to expect the coat to get cut to fit the cloth," he said.
Friends of the Earth campaigner Guy Shrubsole said: "The environment has taken another big hit in this review on top of the 30% cut Defra suffered two years ago.
"This will mean less money to protect wildlife and reverse the decline in nature at the same time as government planning reforms give free rein to developers to damage our green and pleasant land."
The RSPB also urges government to invest in natural capital like habitats and species which are important for health and well-being.
Today's budget news comes a month after the State of Nature report revealed that 60% of UK species were in decline.
The Chancellor also cut 8% of the budget for the Department of Energy and Climate Change (Decc), which may cause concern because a significant amount of the department's budget is swallowed by nuclear decommissioning costs.
But he confirmed new investment in renewables, nuclear and shale gas and said the government would provide the UK with the energy of the future at an affordable price.
Billions are needed to make the transformation to a low-carbon economy, but campaigners say some infrastructure projects are not representative of a sustainable approach to development.
Paul Wilkinson, from The Wildlife Trusts, said: "Road schemes such as the proposed £1bn extension of the M4 through the Gwent Levels in Wales have little or no economic justification and will cause irreversible damage to wildlife and valuable landscapes."
Follow Roger on Twitter