BBC tops list of 10 best science news websites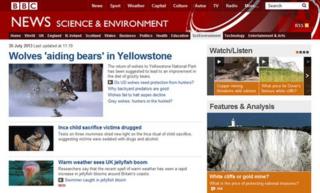 The BBC has topped a list of the 10 best websites for science news.
The BBC News science and environment page beat off tough competition such as New Scientist and National Geographic in the list compiled by the website RealClearScience.
The BBC's journalists were commended for an "ability to communicate complex topics to a global audience".
Nature News came just behind the BBC in the top 10 and Wired's science coverage was listed at number three.
RealClearScience also said the BBC's science team had "extraordinary journalistic instinct".
On Nature News, which came at number two in the list, the site said "the reliability and readability of the information found here proves that Nature takes its commitment to journalism every bit as seriously as it does its commitment to groundbreaking research".
Wired's science coverage took third place, with the magazine being praised for being "at the forefront of all things science and technology". Its reporters Brandon Keim and Nadia Drake were also described as "top-notch".
The other science news sites commended by RealClearScience, in descending order, were: Ars Technica, New Scientist, Popular Science, Live Science, National Geographic, Smithsonian Magazine and io9.
US National Public Radio's science section, the relatively new magazine Nautilus and Slate received honourable mentions.