TB: Farmers face new cattle controls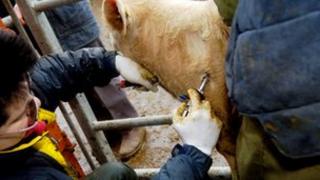 New measures to try to slow the spread of bovine TB in England have been announced by the government.
TB testing and cattle movement controls will be stepped up this autumn on farms at the edge of TB hotspots.
The areas include Nottinghamshire, Leicestershire, Northamptonshire, Berkshire, Hampshire and parts of Cheshire, Derbyshire, Warwickshire, Oxfordshire and East Sussex.
A controversial badger cull is set to go ahead this year in two pilot areas.
The new measures are for the so-called edge area, the boundary between the high-risk area for bovine TB (predominantly in the South West, West Midlands and parts of East Sussex) and the low risk area, in the North and East of England.
Under the stricter regime, farms in Cheshire and Derbyshire within a radius of 3km (almost two miles) of a new TB outbreak on a farm will have to immediately test herds for bovine TB and again after six months.
Elsewhere, farmers will be required to supply two further clean tests after an outbreak before restrictions are lifted.
They will also need to use the gamma interferon test for spotting TB infection, which is more sensitive than the standard tuberculin skin one.
The Department for Environment, Food and Rural Affairs said there will also be more monitoring of TB infection in badgers, through post-mortems on badgers killed on the road.
Meanwhile, farmers wishing to vaccinate badgers on their land will be able to apply for money from a £250,000 fund to help cover half the costs of the first year of the project.
New strategy
Last month, the government announced a new long-term strategy for the control of bovine TB in England, pulling together various policies, involving the government, the farming industry, vets and scientists.
It focuses on the idea of dividing the country into three areas - low-risk, high-risk and the edge between the two - and tackling each with different interventions.
In the high-risk area, badger culling has been authorised at two pilot sites in west Somerset and in and around west Gloucestershire.
Under the proposals, about 5,000 badgers will be culled by free shooting before the end of the year.
Ministers say the action is needed to help tackle the cattle disease, which has been steadily rising since the 1980s.
Campaigners against the cull say it will have no impact on bovine TB, and could lead to local populations of badgers being wiped out.
Vaccination of badgers is already under way in Wales as an alternative to culling. A similar vaccine for cattle exists, but its use is prohibited by EU regulations.
Scotland has been officially TB-free since 2009.