UK urban meadows hope to help pollinators get buzzing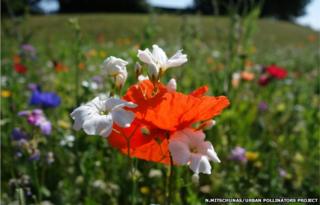 Researchers have planted flower meadows in four UK cities as part of a study to improve understanding of urbanisation on insect pollinators.
Continuing development means that urban areas are growing, and researchers are gathering data to see if floral-rich city habitats would benefit wildlife.
The Urban Pollinators Project is the first citywide survey of its kind to assess the role of all urban habitats.
The team plan to share their findings at a conference next year.
The three-year £1.3m project involves scientists from four UK universities - Bristol, Reading, Leeds and Edinburgh - and is now in its final year.
"The project is the largest UK study of urban habitats to date," said project co-ordinator Katherine Baldock, of the University of Bristol.
"People have looked at pollinators in urban areas before but we are simultaneously looking at multiple areas across the UK."
'Extremely attractive'
The project set out to investigate:
How does the pollinator biodiversity in urban areas compare with that of nature reserves and farmland?
Where are the hotspots of pollinator biodiversity in urban areas?
What can be done to improve pollinator diversity and abundance in urban areas?
"We can use that information to inform land managers and garden owners about what they could potentially plant," Dr Baldock told BBC News.
The planting of flower meadows was part of the team's efforts to answer how urban areas could be made more pollinator-friendly.
Dr Baldock said: "The idea is that if you can put a large amount of food resources, such as pollen and nectar, does that actually improve urban areas and, longer term, is that something that could be adopted more widely?"
She added that the team had been collecting data from the meadows since May and would continue while flowering continued, which was likely to be until late next month.
"We will be recording how many different kinds of flowers are available at different times of year," she said.
"Also, we will be looking at what different types of pollinators are visiting them and how many, in total, pollinators visit the meadows."
Each city is hosting a number of meadows, made up of either an annual or perennial mix of flowers.
The annual meadows contain seeds from an off-the-shelf commercial mix that the scientists describe as "extremely attractive to both people and pollinators".
The perennial meadows have been sown using a 100% wildflower mix containing native plant species that have been specially selected for pollinators.
"It is also important to remember that these meadows provide a floral resource, but bees and other pollinators need other resources, such as nesting habitat," Dr Baldock said.
"In isolation, these meadows will not be the whole answer if they are found to be beneficial. But they can at least be part of the solution."
Town v country
The team said that although urban areas were expanding, there was little in the way of formal biodiversity protection outside recognised nature reserves.
However, writing on the study's website, the team observed: "Urban habitats have the potential to provide excellent conditions for pollinators.
"For example, half of Germany's entire bee fauna have been found in Berlin, 35% of British hoverfly species were sampled in a single Leicester garden, and honey bees produce more honey in urban Birmingham than in the surrounding countryside."
Researchers at the University of Reading calculated that the total value of crops pollinated by insects in the UK was an estimated £510m per year, yet the estimated annual cost of replacing pollination services provided free by insects with hand pollination would be in the region of £1.8bn per year.
Dr Baldock added: "Urban areas could be an important connecting habitat throughout the landscape.
"If pollinators are able to move through urban habitats, then that is going to facilitate their movement more widely - especially if a lot of our agricultural areas are quite barren [habitats] for pollinators.
"There can be some very good agricultural areas but there are some that have no resources as far as pollinators are concerned."
She added that people growing their own food and community urban food projects were becoming increasingly popular as people attempted to live more sustainably.
"All of these crops will need pollinating, so urban pollinators are important in that context as well."