Could hairy wood ants change the way we communicate?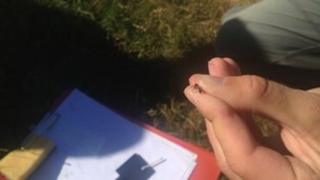 In a world first, 1,000 ants are being fitted with tiny radio transmitters to try to understand how they commute between their vast network of nests.
The three-year project is being conducted at the Peak District National Park's Longshaw estate in Derbyshire.
The cutting-edge experiment in communication and conservation is being conducted by Samuel Ellis, a biologist at the University of York.
The project features on BBC Radio 4's Open Country at 15:00 BST on Thursday.
Minuscule tags
Mr Ellis says: "The way the ants use this network has important implications for how they interact with their environment, and the way information is passed through the network may even have implications for our information and telecommunications networks."
He will be attaching the miniscule radio tags using a specialist adhesive but says: "The ants have an incredibly hard skeleton and can carry up to two times their own weight so will barely notice the tags."
The insects in question are northern hairy wood ants, which have an international, near-threatened conservation status. England's two main populations are found in the Peak District and the North York Moors.
The Longshaw Estate, near Sheffield, is home to more than 1,000 nests containing 50m worker ants.
Intricate work
Each tag is fitted individually using a cotton bud and it is painstaking work for Mr Ellis, who says: "For each experiment I need to tag around 900 to 1,000 ants.
"It's about five or six days of tagging to get the right number."
He will then sit by the trails and scan each tagged ant as it goes by, recording what it is carrying and where it is going to and from.
Mr Ellis, a PhD student, believes it could have applications for humans.
"The telephone network is actually very similar. How to move information through that network is sometimes done with ant-like analogies," he says.
The findings will also help National Trust area ranger Chris Milner in his management of the land and will influence how the habitat can be improved for the ants.