Prize-winning scientist brings African teachers to Cern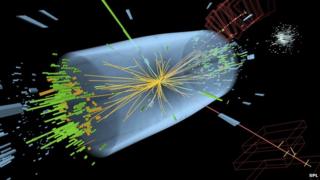 A prize-winning scientist at the European Centre for Nuclear Research (Cern) has used his winnings to promote particle physics in Africa.
Professor Tejinder Virdee was part of the team that played a key part in the discovery of the Higgs Boson.
A winner of the 2013 Fundamental Physics prize, Prof Virdee used his money to bring science teachers from Africa to the Geneva lab.
The story is told in a BBC World Service programme, Discovery.
In March this year, the BBC held a science festival in Kampala, Uganda, where researchers from Africa, the US and Europe took part in a week of programmes and debates.
One of those was Prof Virdee, a former spokesman for the CMS project at Cern, one of the detectors which found evidence of the Higgs Boson.
Originally from Kenya, he is keen to see science develop in the region. And that visit to Uganda gave him a chance to look at how he could get involved.
"I wanted to do something to promote science education in an international context, in ways that makes a significant impact," he said.
Prize money
The leaders of the experiments at Cern were amongst the 16 winners of the 2013 Fundamental Physics prize, awarded just a few days before that event in Uganda.
Prof Virdee had been thinking of ways to use some of the prize money to develop science education in Africa.
In Uganda he met physics teachers who had come to the BBC event, and, together with two teachers from Kenya, brought them to Cern.
They took part in Cern's long-running teaching programme, originally designed for physics teachers from member states, which has participants from over 50 countries - though until now hardly any from Africa.
At Cern, Prof Virdee said: "Getting teachers to come here, they go back excited and inspired and pass it on, its a way to multiply the effect of these things."
Big bang theory
The link between the highly complex particle physics studied at Cern and the development needs of poor countries is a hard one to make, but says Calestous Juma, Professor of international development at the Harvard Kennedy School, there is a strong connection.
"The principles that underlie the way we understand the world, which is really what's behind physics and maths is something people deal with on a day to day basis.
"There are many theoretical ideas that influence our daily lives, where we have no direct physical connection - religion is one of those in terms of theoretical physics we have actually direct connection."
He says the assumption that the theoretical side of science is separate from reality has led to neglect in Africa's education system.
"The international community has done Africa a huge disservice in only emphasising primary education at the expense of higher education and not giving strong emphasis on support for science and technology, this is something African leaders are starting to do on their own - but they have to fight a lot of prejudices against training young people in the sciences."
Beth Taylor, the director of communications and international relations at Britain's Institute of Physics (IOP) agrees.
"One of the reasons we focused on secondary education is because we're aware there's a big drive at primary level, there's also quite a lot of focus in supporting university level, but somehow or other the kids have got to get from that primary level to the university level."
The IOP has 9 different programmes for teacher training in sub Saharan Africa.
It was teachers from a school connected to one of these programmes in Uganda that Tejinder Virdee met in Kampala, and then brought to Cern earlier this summer.
Inspiring experience
Ugandan Physics Teacher Mpamizo Gonzaga says he found the experience inspiring.
"The best thing has been the international nature, we can share the experience of teaching in schools. I've not interacted with high officials, but with the people who deal with the child in the classroom. I hope to share this same experience with my fellow teachers back in Uganda and improve how we teach science."
He says the cutting edge scientific research at Cern is becoming increasingly relevant.
'It gives us an insight, we can also start probing into the questions Cern is trying to answer, the origin of the universe for example.
"Those questions have an impact on the advances in technology, telecommunications and it is high time Africa took up such projects.
George Omondi is a physics teacher in Kisumu Kenya - the birthplace of Prof Virdee. He plans to incorporate some of what he's learned at Cern into his lessons to make physics more appealing to his students.
"We can add some content to our curriculum on particle physics, neutrinos and so forth so that we create interest," he said.
"In our country most top brains go for medicine, not physics because it's not very interesting, so that's what we want to do, to make it interesting."
Prof Virdee says he wants to build on the success of the visit of those African teachers, and is looking at ways of getting more involved with projects and institutions already working on improving science education in Africa.
"It is simple, but also cost effective.
"We need to get feedback from the people here at Cern and see the impact when they get back home. And work with the Institute of Physics which has similar objectives."