Himalayas still uphill for climate report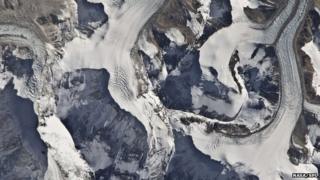 Although the latest global update on climate change says the vast majority of glaciers worldwide have continued to shrink, scientists have admitted that the Himalayas remain an area where they still have very limited information.
Glaciologists involved in the cryosphere chapter of the Intergovernmental Panel on Climate Change's (IPCC) first phase report, launched last week, said there was no good sample of Himalayan glaciers that could help them forecast their future behaviour.
"The Himalayas are one of the areas we really are data-poor," said Prof David Vaughan from Cambridge University, UK, and one of the two lead coordinating authors of the ice chapter in the Fifth Assessment Report (AR5).
"We really need good samples of lots of glaciers and their measurements; we would like to have a larger number of benchmark glaciers," he told BBC News.
The Himalayas received scant coverage in past IPCC reports.
Until its Third Assessment Report in late 2001, the supreme authority on climate science called the Himalayan region a "white spot" because of the lack of information.
Its Fourth Assessment Report in 2007 courted huge controversy when it mistakenly said that most of the Himalayan glaciers would disappear by 2035.
After the IPCC put its hand up on this error, there was an expectation that AR5 would contain something more, particularly from the ground.
But scientists involved in the latest IPCC report said there had been very little ground-truthing of the satellite imagery obtained for the Himalayas.
"Ground measurements are still very few, and, in addition, these few are usually limited to very small and not very representative glaciers," said Prof Georg Kaser, a University of Innsbruck, Austria, glaciologist and a lead author on AR5's cryosphere chapter.
"Field work on these glaciers is extremely difficult and also dangerous on an unacceptable scale. There is no way to overcome this, and this fact is also one of the reasons why we knew so little about these glaciers - giving thus also good reasons for [exaggerated] guesses."
The Himalayas cover about one million square km, and there are more than 15,000 glaciers in the region according to several studies.
The first-phase instalment of AR5 has significant detail on the Arctic, Greenland and the Antarctic.
On the Greenland ice sheet, for instance, it said: "There is very high confidence that the Greenland ice sheet has lost ice during the last two decades.
"Combinations of satellite and airborne remote sensing together with field data indicate with high confidence that the ice loss has occurred in several sectors, and that large rates of mass loss have spread to wider regions than reported in AR4."
But there is nothing like this on the Himalayas - the largest body of ice outside the northern and southern polar regions - and scientists say the main reason is the lack of studies on the ground.
Even countries in the region have not been able to expand upon the few field studies they have initiated in limited pockets.
India's Wadia Institute of Himalayan Geology has been monitoring less than half-a-dozen glaciers within the Indian Himalayas.
"There are also strategic reasons behind the lack of ground work," says WIHG director Prof Anil Gupta, who was also a review editor on AR5's paleoclimate chapter.
"For instance, China and India share borders in the Himalayas and so because of the sensitivities on both the sides, it becomes difficult to reach these areas."
WIHG has found that one of the reasons behind the recent catastrophic floods in Uttarakhand State of northern India was a breach of a glacial lake.
"The heavy precipitation led to the melting of the soft snow and even old ice in the Chorabari and companion glaciers that fed to the Chorabari Lake, which got breached due to excessive water intake from the glaciers," Prof Gupta explained.
"The mixing of glacial moraine, or debris, with glacial melt water mainly impacted the town of Shri Kedarnath and downstream towns of Gauriganga, Ramban, etc in the Kedarnath Valley."
Prof Vaughan said that updates on the state of nearby glaciers were crucial for people living in such valleys in the Himalayas.
"If you live in a valley below one glacier, you really don't care what the global average [of glacial retreat] is; you just want to know what's happening to that particular glacier that's affecting your water security.
According to the United Nations Environment Programme, there have been at least 35 events of glacial lake outbursts in Nepal, Pakistan, Bhutan and China during the last century.
To minimise future risks, Prof Vaughan said scientists urgently needed more data on Himalayan glaciers.
"If they are going to start retreating then some of them will leave these kinds of glacial lakes that can then be quite dangerous if they burst out.
"We could actually predict which glaciers are likely to have that kind of behaviour in the future if only we can get on the ground and get some details."