Fears for science amid US shutdown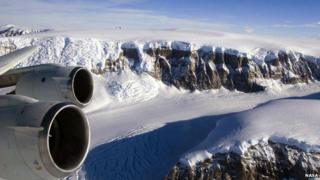 American scientists are scrambling to preserve vital research programmes amid the US government funding shutdown.
Key projects investigating ice loss in Antarctica are among those at risk as plans for fieldwork are stalled.
If the expeditions do not go ahead, it could jeopardise investigations that have gathered data over decades.
Medical research, including studies of degenerative disease, is also held up as government-employed scientists have been sent home.
The case of the National Science Foundation is typical of many US funding bodies - it has closed its front door and no-one is answering calls or emails. Websites of the likes of Nasa are redirecting to holding pages.
The chief concern among scientists is that long-running projects monitoring change could now be harmed by a sudden break in the flow of data.
One major initiative known as IceBridge - which uses aircraft to study the edges of the ice-sheet in West Antarctica, and is regarded as crucial for understanding future sea-level rise - has been delayed by two weeks already.
Unofficial communication
The planes are fitted with laser and radar systems to measure the height of the ice sheet as it approaches the coast - and gathering annual data is essential for researchers trying to understand patterns of change.
The plan for the approaching field season in Antarctica was to operate the plane from landing strips on the ice but this will become impossible later next month as temperatures rise with the Southern Hemisphere summer, potentially putting at risk the entire season's fieldwork.
Teams involved in the project are known to be working on contingency plans in the hope that a budget deal can be struck soon by US President Barack Obama and the House of Representatives.
With official lines of communication between funding agencies and scientists currently suspended, many have resorted to private corridors to maintain some level of organisation. Information is being passed through Gmail and Hotmail accounts, and through social media such as Facebook and Twitter.
The message put out to Antarctic researchers on Wednesday was that the upcoming season was not all lost. Many groups are not due to go out until December, and so there is still the chance that some projects can be rescued.
"But there is this overwhelming sense of confusion and frustration, and the inability to get clear information on what is going on because the NSF has closed along with the other government agencies," one university glaciologist told the BBC.
"We've been told to keep planning for the Antarctic season, but it's like being at school and all the teachers have gone home; you don't know where to go for guidance because they're not there."
Data poor
With many major research projects now run internationally, the effect of the US shutdown will also be felt by scientists beyond the United States.
Several British polar scientists are thought to be scheduled to join American expeditions but face being delayed or even losing out completely.
For the moment, the British Antarctic Survey (BAS) is insisting that the impact on UK polar science will be minimal.
But Prof Jane Francis, director of BAS, warned in a statement that, "the potential loss of data which would be collected by American scientists, and shared with other research teams, would have an impact on the science we conduct.
"At present, BAS is working on the assumption the US financial situation will be resolved soon, and any joint work can go ahead as planned. We are monitoring the situation on a daily basis."
One American project known as RICE, investigating a margin of the West Antarctic Ice Sheet, is due to involve scientists from China, New Zealand, Denmark and one researcher from the UK. At the moment, its fate is uncertain.
Other fields of research are vulnerable, too - and British scientists are among those raising concerns.
International focus
Prof John Hardy, of University College London, said: "Vital work on Alzheimer's and Parkinson's is being held up while hardworking scientists are being forced to stay at home, without even being allowed to read their email. It is difficult to see how this is fiscally responsible."
Imran Khan, chief executive of the British Science Association, said: "The biggest lesson we should take from this week's Nobel Prizes is that science doesn't belong to one nation; it's an international and collaborative human enterprise.
"Our scientists work with American scientists, and the UK public benefits enormously from research that goes on there, as well as vice versa.
"If the shutdown continues, it's bad news for both scientists and the public here in the UK as well as across the pond."
American satellites are still functioning and data is being gathered, but Nasa scientists are among those refused funding to travel to international conferences - a key part of the process of scientific exchange.
One leading space agency scientist, speaking from home, told me that the shutdown was "deeply frustrating and very bad for morale - it's illegal for us to work".
Instead of managing a research project, he's keeping himself busy in his garden. "The koi pond has never looked better," he said.