New data on badger TB spread released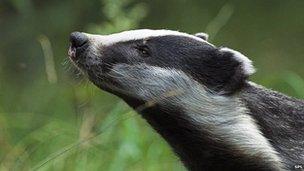 Herd-to-herd transmission of bovine TB in cattle accounts for 94% of cases, according to new data.
Further analysis of scientific evidence from the Krebs badger culling trial found around 6% of infected cattle catch TB directly from badgers.
The figure rises to about 50%, when cattle infected by badgers pass it on to other herds, say Imperial College London scientists.
The government is to decide shortly whether to extend pilot culls.
A six-week trial of badger culling in Somerset has now ended, but the firm behind it has asked for more time after its marksmen fell short of killing the target of 70% of the badger population.
A similar trial in Gloucestershire is still ongoing. An application has been made to extend the trial, but it is not known how many badgers have been shot.
The role of badgers in spreading bovine TB has been hotly debated as part of discussions about whether badgers in England should be culled to control the spread of the disease.
The scientific evidence for and against badger culling comes from the £50m Randomised Badger Culling (Krebs) trial.
The study, which ran from 1998 to 2005, found evidence that culling could reduce TB in herds inside culled areas, while increasing TB in areas nearby.
Mathematical modelling revealed that in high TB areas badgers accounted for roughly 50% of cases in cattle.
A new more detailed analysis published in the journal PLOS Currents Outbreaks found that of this 50%, 6% was because of primary transmission from badgers to cattle, with the remainder coming from cattle that had been infected by badgers passing the disease on to other herds.
Research leader Prof Christl Donnelly told the BBC: "The results show that both badgers and cattle are important in this transmission system - that we're getting introductions from badgers and they're being amplified spreading from herd to herd.
"The 6% figure tells you about introductions into herds and that tells you that 6% of the introductions into herds come from badgers; 94% of them come from other cattle herds."
She said the estimates came from early in the Krebs trial and further control measures had been introduced since then to reduce cattle to cattle transmission.
Prof Donnelly added: "These findings confirm that badgers do play a large role in the spread of bovine TB. These figures should inform the debate, even if they don't point to a single way forward."
Ministers and the NFU say badger culling is needed to control TB in cattle.
Around 28,000 cattle were slaughtered in 2012 at a cost of £100m to taxpayers. However, animal rights groups say scientific evidence does not support the policy of shooting badgers in an attempt to control the disease.
Related Internet Links
The BBC is not responsible for the content of external sites.