Higgs boson book scoops Royal Society Winton Prize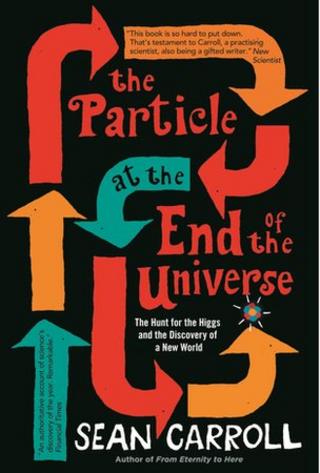 A book telling the story of the hunt for the elusive Higgs boson has won the 2013 Royal Society Winton Prize.
Theoretical physicist Sean Carroll scoops the £25,000 award for his book The Particle at the End of the Universe.
His work beat five other titles that ranged across topics that broadly focussed on life in its many forms and its internal workings.
But the judges were unanimous in their decision to give Dr Carroll the prize.
Prof Uta Frith, from University College London and chair of the judges, said of the winning book: "It is an exceptional example of the genre and a real rock star of a book. Though it's a topic that has been tackled many times before.
"Carroll writes with an energy that propels readers along and fills them with his own passion. He understands their minds and anticipates their questions. There's no doubt that this is an important, enduring piece of literature."
The prize was announced at the society's central London headquarters.
Dr Carroll said it was "completely unexpected".
"It was a great thrill. I honestly thought of the six people in this room, anyone could have won.
"I was the only physicist, the only American. All the books are really interesting.
"They're talking about both esoteric aspects of science but ones that affect our lives in a tangible way. I got the benefit of the fact that we're in Higgs mania and that people were really interested in it, but the disadvantage is that the Higgs is an abstract concept that people have a little bit of difficulty wrapping their brains around," he told BBC News.
Dr Emily Flashman, from the University of Oxford and another member of the judging panel, said that the Higgs boson book stood out from the very beginning "as an outstanding piece of science writing".
"It takes a difficult subject, makes it interesting, accessible and exciting. It tells the whole story of the experiment to find the Higgs boson.
"It's clearly a populist choice but it stood out on its own merit," she told the BBC.
Previous winners of this prize have included Stephen Hawking and Bill Bryson. Each runner-up receives £2,500.
The full shortlist for the Royal Society Prize for Science Books was:
Bird Sense by Tim Birkhead, published by Bloomsbury
The Particle at the End of the Universe by Sean Carroll, published by OneWorld Publications
Cells to Civilizations by Enrico Coen, published by Princeton University Press
Pieces of Light by Charles Fernyhough, published by Profile Books
The Book of Barely Imagined Beings by Caspar Henderson, published by Granta
Ocean of Life by Callum Roberts, published by Allen Lane (Penguin Books)