Autumn Statement: Chancellor funds research with China and India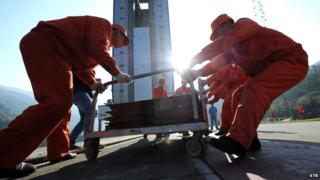 The Chancellor has announced £90m a year for five years for research collaboration with emerging nations.
There is also £10m for a "Higgs Centre" to support high technology business start-ups.
And George Osborne said there would be £270m to develop a network of quantum technology centres, as well.
But critics point out that science funding has been eroded over the past three years and is not keeping pace with that of competitors.
Ahead of the Autumn Statement, Mr Osborne said: "Science is a personal priority of mine. This government will continue to prioritise the long-term investments that are needed to compete in the global race."
Dr Sarah Main, director of the Campaign for Science and Engineering (Case), said: "It's great to see the Chancellor backing science as his 'personal priority'.
"His investments in science, higher education and apprenticeships will all surely help to create the high-tech 'job-rich recovery' that he wants.
"However, I'm concerned that the pressure of £300m savings in the Department for Business, Innovation and Skills over the next two years might hit an already squeezed science and engineering sector, compounded by pressure on R&D budgets across all departments."
The chair of the House of Lords Science Select Committee, Lord Krebs, recently expressed his concern that money from the Treasury was continuing to be directed at so-called pet projects rather than allowing the scientific community freedom to spend the money on the research it feels most deserves to be funded.
Long-term plan
In acknowledgement of these concerns, the Chancellor's statement contained a commitment to develop a long-term plan for research for next year's Autumn Statement.
"Central to this will be a roadmap of how the government's long-term commitment on science capital announced at Spending Round 2013 will deliver the research and innovation infrastructure needed to ensure that the UK's capabilities remain world-leading while playing a key role in economic growth and scientific excellence," it states.
This "long-term commitment" announced at the last spending review takes the form of a fixed £4.6bn resources budget (money for day-to-day research) and an inflation protected capital budget (money to support laboratories and other facilities).
The coalition's science minister David Willetts said "The Chancellor made it clear today about his personal commitment to science, and that is a commitment to maintaining the science ringfence," he told BBC News. "The 4.6bn and the longterm capital plan both stand."
Mr Willetts was speaking at a stone-laying ceremony for the European Space Agency's new UK technical facility - the European Centre for Space Applications and Telecommunications, or ECSAT, at Harwell in Oxfordshire.
Some £80m of Thursday's new money is specifically directed towards developing joint space missions with China, India and other emerging space-faring nations.
The UK's space industry is among the best in the world and so the hope is that scientific collaboration will lead to lucrative commercial orders.
Pallava Bagla, an expert on the Indian space programme and science editor for the NDTV broadcasting network, thinks that India's space agency Isro would be happy to partner with British experts on India's future space missions.
"Stronger ties can be beneficial for both countries, a possible 'win-win' for both India and the UK," he told BBC News.
The money for other scientific collaborations with emerging nations is likely to be directed towards additional areas the UK is strong in such as genomics and synthetic biology.
The collaboration fund aims to leverage UK science spending with the large investments in research being made by China and India.
Prof Paul Nurse, president of the Royal Society, said: "International collaboration is essential to progress in science. The UK has arguably the best scientists in the world and the emerging scientific powers bring their own skills to the table, in many cases backed by large scale investment.
"The fund announced by the Chancellor today will allow the UK to further capitalise on our competitive advantage in science to drive forward our own economic interests and global advances in areas such as health and energy."
Prof Paul Hardaker, chief executive of the Institute of Physics (IOP), said: "The announcement of new investment in science is continued good news for the UK. As the government has clearly recognised, science and innovation have the potential to lead our economic recovery."