Ice rescue ship leaves for Australia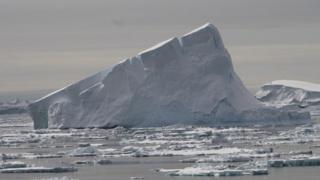 An icebreaker has left Antarctica for Australia, carrying passengers rescued from a Russian ship that became trapped in ice at Christmas.
The Russian ship Academik Shokalskiy and its crew have since escaped the ice, reaching New Zealand on Tuesday.
The expedition team ended up taking a longer route.
The Australian icebreaker that picked them up, Aurora Australis, had to first perform scheduled duties at the Australian Antarctic base, Casey.
The 52 passengers rescued from the Academik Shokalskiy were part of the Australasian Antarctic Expedition, re-tracing the steps of explorer Douglas Mawson.
The Aurora has been at Casey base for the past week. When the weather's been good like it has been since Sunday, the Aurora's crew has been taking cargo by barge and piping fuel over to the multi-coloured base around the clock.
The final stage of work has been to ferry waste from base to ship to take back to Australia. Those operations are now almost complete.
On Wednesday, the Aurora headed out to sea, through an alley of giant icebergs.
The Australasian Antarctic Expedition passengers had previously spent several days becoming rather familiar with the marooned bergs in the area when the Aurora had to pull away from shore because of high winds.
For about three days, the ship followed circuit after circuit in this sea area, known as Vincennes Bay, taking soundings of the sea bed and passing close to some of the spectacular ice giants.
The icebergs have travelled on the circumpolar current, in some instances, for hundreds of kilometres from the east. They become grounded in these parts where the sea bed rises to between 300 and 400 metres deep.
The sunset and colours on cloud, ice and water were particularly beautiful at Casey late Tuesday evening.
The splendid views from the top deck only heightened the communal spirit of optimism that a lengthy detour for the crew of the Aurora Australis and an ordeal for those rescued from the Academik Shokalskiy was in its final leg.
In the next few hours, those on board the Aurora will say their farewells to the ice bergs as they steam towards the Southern Ocean and Australia beyond.
Its expected day of arrival in Tasmania is 22 January.