Fresh impact crater spied on Mars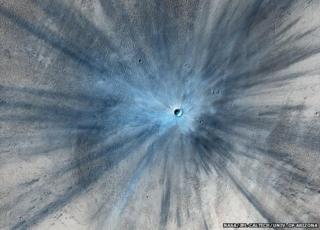 A Nasa spacecraft in orbit around the Red Planet has spied a fresh impact crater on the Martian surface.
The hole is about 30m (100ft) in diameter and surrounded by a blast zone of debris punched out of the ground by the meteorite impact.
The explosion that generated this crater tossed out debris as far as 15km (9.3 mi).
The image was taken by the Mars Reconnaissance Orbiter's HiRise camera, one of six instruments on the probe.
Researchers used HiRise to examine this site because the orbiter's Context Camera had revealed a change in appearance in this Martian region between observations in July 2010 and May 2012.
Scientists have carried before-and-after imaging to bracket the appearance dates of fresh craters on Mars.
These studies indicate that impacts producing holes at least 3.9m (12.8ft) in diameter occur at a rate exceeding 200 per year across the planet.