Illegal hunting on the rise in Afghanistan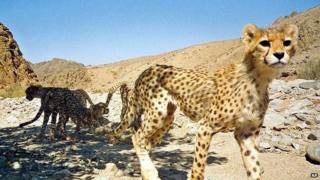 Illegal wildlife hunting is on the rise in Afghanistan - threatening several key species, campaigners say.
Officials admit it is happening in most provinces despite regulations banning hunting, including a decree by Afghan President Hamid Karzai.
There have been claims hunting is carried out by locals and by foreign nationals from Middle Eastern countries.
However, Afghan officials could not confirm this to BBC News.
The country has listed nearly 150 wild animals and birds as at-risk within its territory but there are no detailed records of how many have been killed or poached.
Authorities say the ongoing conflict has made monitoring almost impossible.
But environmentalists have accused some politicians of using illegal wildlife hunting as a means to secure the backing of influential individuals from countries in the Gulf region for their electoral campaigns in Afghanistan.
"With the election campaign heating up, some groups and elements that are close to a few [Middle East] countries are bringing people from those places to secure further support to their candidacy," said Abdul Rahman Salahi, a civil activist with the Herat Professional Council.
"Because of the methods adopted by some politicians and the fact that the international forces are leaving Afghanistan, people are quite worried that illegal hunting will now go up."
Traditional hunting
Herat recently saw a street protest against alleged illegal hunting.
"Our demo is against a number of [foreign nationals] who have come to the west of Afghanistan where they have violated Afghan law by hunting wild animals," Khalil Parsa, head of the Afghan Network of Civil Societies, told BBC Persian radio during the protest.
Visuals showing people wearing traditional Arabian male dress arriving in Afghanistan with falcons have been posted on the internet and local media have covered the issue widely.
Officials say that they saw the media reports, but found no clear evidence during their investigation. They added that strict instructions have been issued to local authorities to look out for illegal hunting.
But some international organisations working on wildlife conservation also say that foreign nationals have been involved.
"Even during the war, people from the Middle East were going there for traditional hunting, which they do using falcons," said Ejaz Ahamad of WWF in Pakistan.
Abdul Wali Modaqiq, deputy chief of Afghanistan's National Environmental Protection Agency admitted illegal hunting was on the rise.
"Of course, it has gone up in most of our provinces for food and recreation," he told the BBC.
"In the last few decades, we have indeed lost some species of wild animals and birds because of illegal hunting. But I cannot confirm if [foreign nationals] are involved in all this, although I have heard about them through the media."
When another incident of alleged illegal hunting was reported in Herat last year, the government promised an investigation. But conservationists say nothing came of it.
"Hunting using falcons is a tradition in Arab regions," said Raghida Haddad, executive editor of Al-Bia Wal-Tanmia magazine, published by the Arab Forum for Environment and Development.
"But after each hunting season, dozens of falcons are released into the wild... so that their population remains healthy.
"As per the alleged hunting in Afghanistan by people from our region, we have no idea about it."
Some Afghan officials agree that illegal hunting has pushed animals like the brown and black bear, Asiatic cheetah, lynx, ibex, Siberian crane and Houbara bustard onto the list of at-risk species in Afghanistan.
In neighbouring Pakistan, the federal government allows dignitaries from the Gulf region to hunt Houbara bustard, a migratory bird from Central Asia.
"This is done to respect bilateral relations with the Gulf countries," say officials with the International Union for Conservation of Nature (IUCN), which has listed the bird as vulnerable.
"The principle threat is from hunting by Middle Eastern falconers, largely but not exclusively on the species' wintering grounds."
A recent court order has put an interim ban on hunting of the migratory bird. Pakistan media reported that the court had asked the government to notify all 33 hunting permit holders from Gulf countries to arrange for representation during the next hearing.
Meanwhile, the chief of Kabul Zoo, Aziz Gul Saqib, said: "We know that illegal hunting is going on in many places of our country but we have not been able to control such activities.
"At present, creating awareness against such practices has been our main measure and we hope it will work."