Animal trafficking: Wildlife trade crisis talks held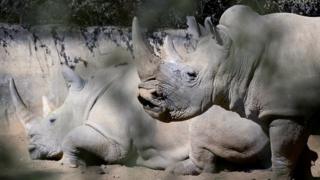 Experts from around the world are gathering in London to discuss "the global crisis" in the wildlife trade.
Conservationists say animal trafficking is reaching unprecedented levels and species such as rhinos, elephants and tigers are under threat of extinction.
The aim of the meeting, hosted by the Zoological Society of London, is to find new ways to protect animals and reduce demand for wildlife products.
An action plan will be fed into another meeting hosted by the UK government.
This will take place on Thursday at Lancaster House, with international leaders gathering to discuss a global response to animal poaching.
They will be joined by Prince Charles and Prince William, Duke of Cambridge. They have jointly released a video campaign urging people to "unite for wildlife".
Prof Jonathan Baillie, director of conservation at the Zoological Society of London (ZSL), said: "It's clear that illegal wildlife trafficking is completely out of control, and we need to bring the best minds together to really identify some clear solutions and show clear leadership and direction."
He has organised the two-day conference with other NGOs, which include the Wildlife Conservation Society, WWF, Traffic and Conservation International.
Wildlife poaching has seen a recent boom, and it is worth an estimated £12bn ($19bn) each year.
In South Africa, in 2007, 13 rhinos were killed for their horns, but in 2013, 1,004 rhinos were slaughtered by poachers.
Elephants too are suffering dramatic losses. An estimated 20,000 of the giants were killed in Africa during 2012, according to work carried out for the International Union for Conservation of Nature
Prof Baillie added: "I was working in central west Africa a little over 10 years ago - and more than half the elephants I saw would now be gone."
The meeting will also look at the trade in other species, including tigers, which are thought to number just 3,200 in the wild, and pangolins, which are traded at high volume.
The conservationists at the conference will discuss ways to stem the growing markets for wildlife products.
Naomi Doak, from Traffic, said the demand for animal products in Asian counties such as Vietnam was growing.
"There is still a very strong underlying belief in rhino horn's medicinal value, but we've seen a move away from that towards its use as a reinforcer of social status; a validation almost of people's emerging position in an economy that is growing incredibly fast," she said.
The meeting will also look at how conservationists can better protect animals.
Prof Baillie said: "People on the ground need to have the tools, the technology and the money to implement conservation effectively. They are up against massive crime networks that are extremely well resourced - and they are outmanned and outgunned."
Follow Rebecca on Twitter