Light pollution 'affects bats' tropical seed dispersal'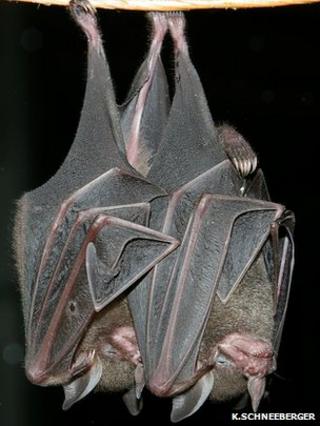 Light pollution could affect the regeneration of tropical rainforests because it disrupts the behaviour of seed dispersing bats, a study suggests.
Researchers found that a species of fruit-eating bats in Costa Rica avoided foraging in artificial light.
The team warned the findings suggested light pollution could have a negative impacts on ecosystems, and called for light-free refuges to be established.
The findings have been published in the Journal of Applied Ecology.
Each year, large swaths of rainforest are cleared and converted to agricultural land. The team says the land is often abandoned when the soil fertility falls, making it uneconomic to grow crops.
The team observed: "Natural succession of abandoned land could counter the loss of biodiversity, but the rate of natural reforestation is slow."
They added that fruit-eating bats help rainforest plants re-colonize the land because the mammals seemed to "tolerate habitat disturbance when dispersing seeds".
"Under naturally dark conditions, bats produce a copious seed rain - even in deforested habitats and connect distant forest fragments," they wrote.
"Yet, artificial light at night may compromise bat-mediated seed dispersal if bats avoided lit areas."
Light sensitive
In order to test the idea, the researchers studied the feeding behaviour of Sowell's short-tailed bats (Carollia sowelli) - which feed on the fruits of pepper plants.
Initially, they carried out an experiment using captive bats to demonstrate that food was often left unexplored or consumed when a compartment was dimly lit in comparison with dark compartments.
They said this indicated that "artificial light altered the foraging behaviour of fruit-eating bats".
In order to see if this behaviour was replicated in the wild, the researchers observed wild bats' response to light emitted from a street lamp.
"We found that [fruits] were less likely to be harvested when plants were illuminated by a street lamp than under natural darkness," they said.
Although previous research has shown that insect-eating bats' foraging behaviour was adversely affected by artificial light, this was the first study to indicate that fruit-eating bat species also avoided lit areas.
The findings suggested that light pollution could have adverse consequences for forest regeneration in the tropics, explained co-author Daniel Lewanzik from the Leibniz Institute for Zoo and Wildlife Research, Berlin.
"In tropical habitats, bat-mediated seed dispersal is necessary for the rapid succession of deforested land because few other animals than bats disperse seeds into open habitats," he said.
In their paper, the team warned: "Policymakers of tropical countries should become aware of the potential detrimental effects of artificial lighting on wildlife and ecosystem functioning."
Mr Lewanzik added: "The impact of light pollution could be reduced by changes in lighting design and by setting up dark refuges connected by dark corridors for light-sensitive species like bats."