Why climate change is bad news for India tea producers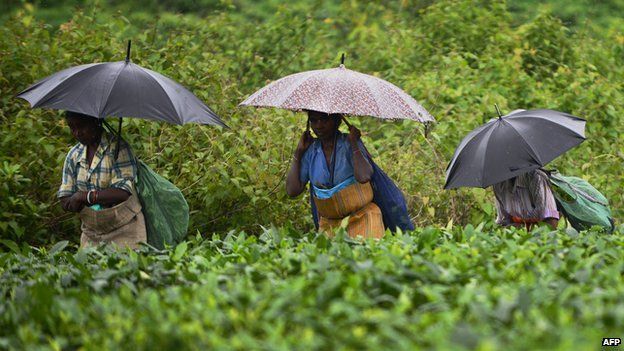 Growing India's famed Assam tea now costs more and is becoming increasingly challenging because of changing weather, experts have said.
They say coping with the changes in temperature and rainfall have meant added expenses to maintain production.
But they cannot raise their tea price because of market competition.
India is one of the world's biggest tea producers and more than half of the country's production comes from Assam.
Scientists and tea growers in the north-eastern Indian state say temperatures in the region have gone up, dry periods are now longer and rainfall patterns are changing.
"Earlier, we had evenly spread rainfall," says Manish Bagaria who has a tea estate in Dibrugarh, northern Assam.
"Now, what we have been noticing over the decade is we get a lot of rainfall in one particular month or a couple of months and that erodes the topsoil of the tea garden.
"While that already affects our production, the dry spell makes our bushes prone to pests, for which we have to use more pesticides and that means higher costs."
Another tea grower in the region, Prabhat Bezboruah, has a similar experience.
"There has been a weird resurgence of pests that had been dormant for decades. Now, with the weather changes and the temperature going up, we are seeing all kinds of pest coming back."
Some tea garden owners say they can deal with pests for now but the more pressing problem is the changing pattern of rainfall.
"Since the dry period is longer and it rains heavily within a short span of time, several large tea gardens have started using irrigation systems to get better yields," says Mr Bagaria.
"That is a very expensive way of growing this crop."
Experts say Assam's tea gardens once benefitted from the right balance between rainfall and sunlight.
Now they worry that balance has been lost.
Irrigation pipes, sprinklers, water pumps and other equipment have now sprung up in several gardens.
"The change in precipitation, particularly, will be very critical," says Prof Arup Kumar Sarma of the Indian Institute of Technology Guwahati, who recently carried out research on Assam's tea gardens and climate change.
"Our study shows that this region will be having a longer dry period and the peak flow of the monsoon will also be increasing.
"That means we will have very extreme rainfall."
Prof Sarma said his team also observed that the monsoon rainfall was shifting and that would affect tea production.
"The monsoon already begins a bit late in some places now and that means that due to the prolonged drought, people can pluck tea only in March, while they had been plucking in February for nearly half-a-century.
"Now we get the highest rainfall during June and July but our models are showing that, in the future, the peak period will be in September, so these changes will certainly be affecting the tea gardens."
Mr Bezboruah says changes in rainfall patterns are likely to impact the tea harvest.
"Earlier, we used to have a good harvest in March and April and then in November and December, now we are getting around 65% of our crop in four consecutive months - July through October.
"This means we need to invest in new machines that can handle 17% of output in a month and also we require advanced storage facilities because there is a glut of supply in those four months, fetching us a bad price."
According to Indian Tea Association, Assam produced nearly 620 million kg of tea last year, up from 590 million kg in 2012.
The Tea Research Association of India has conducted its own studies and found that many tea garden areas were seeing drops in rainfall and rises in temperature.
Its deputy director RM Bhagat says: "Rainfall and temperature are the major factors impacting tea production in Assam.
"It's going to be a very difficult situation. We need to take adaptive measures, including conserving rain water and using pressurised irrigation using a sprinkler and drip system.
"That way, costs may escalate a little bit but it will translate into increased production also."
Indian tea traders say even if the production cost is going up, they cannot raise the price of their products because of competition in the international market.
India's main competitors are Kenya and Sri Lanka.
Experts say that while Kenya is now benefitting from rising temperatures - because in the past its tea industry suffered from cold weather - the situation in Sri Lanka is no different from Assam.
"We get very heavy showers within a span of 20 to 30 minutes these days," says Keragala Jayantha, chairman of the Colombo Tea Traders Association.
"So far, our tea bushes have withstood these extreme changes but 10 to 15 years down the line we will find ourselves in a difficult situation.
For tea producers in Assam, that situation has already come.