Viewpoints: Reaction to third UN climate report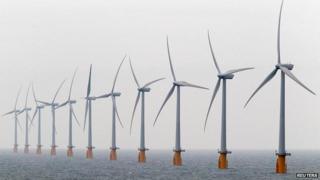 A landmark report says the world must rapidly move away from carbon-intensive fuels in order to curb climate change.
The report is the work of the UN's Intergovernmental Panel on Climate Change (IPCC), which was set up to provide a clear scientific view on climate change and its impacts.
Here are a selection of reactions to the report.
Ed Davey, UK Secretary of State for Energy
The message of this report is clear. Greenhouse gas emissions have accelerated in recent years due to human activity.
We need a large-scale change to our global energy system if we are to limit the effects of climate change. The longer we leave it, the more difficult and costly it will be.
The UK is leading from the front with our European partners. We've adopted some of the most ambitious climate change targets and are investing in low carbon and energy efficiency technologies.
John Kerry, US Secretary of State
We've already had wake-up call after wake-up call about climate science. This report is a wake-up call about global economic opportunity we can seize today as we lead on climate change.
So many of the technologies that will help us fight climate change are far cheaper, more readily available, and better performing than they were when the last IPCC assessment was released less than a decade ago. Good energy solutions are climate solutions and this report shines a light on energy technologies available right now to substantially reduce global emissions.
These technologies can cut carbon pollution while growing economic opportunity at the same time. The global energy market represents a $6 trillion opportunity, with 6 billion users around the world. By 2035, investment in the energy sector is expected to reach nearly $17 trillion.
We already know that climate science is unambiguous and that every year, the world defers action, the costs only grow. But focusing only on grim realities misses promising realities staring us right in the face.
This report makes very clear we face an issue of global willpower, not capacity.
Prof Sir Brian Hoskins, director of the Grantham Institute for Climate Change, Imperial College London
The science shows us that we need substantial and sustained reductions in greenhouse gas emissions if we are to limit the risks posed by climate change. This is not that difficult - we already have the technologies that are required and they will get better and cheaper in the years to come.
Potential competitiveness issues, affecting a small number of very energy intensive industries, can be handled. We should stop wringing our hands and just get on with it.
Prof Andrew Watson, Royal Society research professor at the University of Exeter
This is a very responsible report. It has a clear message that there is no painless or risk-free approach to the problem we face. For sure, there are economic and societal risks involved with mitigation approaches, whether these involve reducing fossil fuel burning, or the use of carbon dioxide sequestration and removal techniques.
However, there are even bigger risks if we do nothing and rely exclusively on being able to ride out climate change and adapt to it - which is what will happen unless governments take stronger steps to slow the increase of greenhouse gases. We have to encourage both the switch to renewables and pilot projects for carbon sequestration technologies.
Eliot Whittington, deputy director of The Prince of Wales's Corporate Leaders Group
This latest report from the IPCC is the one that many businesses have been waiting most eagerly to read - here is the latest scientific analysis of the solutions that we can employ to limit the stock of atmospheric greenhouse gases and the consequent climate change.
The report contains some stark home truths about the scale of the challenge and the progress we're making to date. Rather than slowing and declining, greenhouse gas emissions are rising at a faster rate than ever before and no country has plans in place that are sufficient to keep warming below the globally agreed limit of 2C.
Dr Richard Dixon, director of Friends of the Earth Scotland
Bold international action to cut our use of fossil fuels is urgently required to steer the planet away from catastrophic climate change.
Rich nations must take the lead by rapidly weaning themselves off coal, gas and oil and funding low-carbon growth in poorer countries.
The IPCC report is clear: We already have the technologies to make the journey to safe, clean energy. But the clock is ticking, we must act now.
Dr Jeremy Leggett, Oxford University's Environmental Change Institute
It is useful to see so many experts agree that the electricity sector can completely decarbonised as a major contribution to keeping global warming below unacceptable danger levels, but many of us on the front lines of renewable energy would say that the IPCC has underestimated the speed with which our technologies, in concert with energy efficiency, can displace fossil fuels in the years ahead.
Similarly, growing numbers of financial analysts would say that the IPCC has given inadequate consideration to the soaring capital expenditures of carbon-fuel companies, and the extent to which that constraint can help drive capital to the declining-cost technologies that dominate the renewables family.