'Little progress' on forest protection plan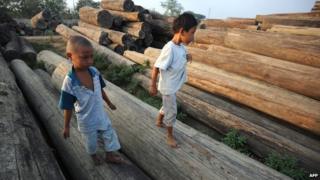 A global programme to reward developing countries for avoiding deforestation has made little headway, officials and conservationists say.
The delays are proving particularly frustrating for communities concerned with conserving forests in those nations.
Campaigners say that nearly eight years have passed since the programme, Reducing Emissions from Deforestation and Forest Degradation (Redd), was announced, but the international projects supposed to implement it are not happening anywhere.
Some countries have seen pilot schemes started, but even these are lagging behind, according to sources.
"There have been several demonstrations and preparation projects for nearly 10 years and now stakeholders are asking: 'Why is the actual project not kicking off?' They are getting impatient," says Nurma Sripatin, who heads the Redd cell in Indonesia's forest ministry.
"There have been 14 decisions and agreements on Redd in the last few years and yet there is no implementation on the ground. We find it difficult to go and talk to forest communities these days."
Indonesia is riding high in the list of 10 countries responsible for 80% of the total forest-related CO2 emissions.
Scientists say conserving forests can play a vital role in slowing climate change because deforestation and degradation of forested areas contributes nearly 20% of global carbon emissions.
They believe conserving forests not only leads to reduced emissions but also helps absorb carbon emitted from fossil fuel burning.
The Redd project was launched in 2007 and has been on the agenda of the United Nations climate negotiations.
"People hear about these negotiations, that there might be payments in the future if you conserve forests and avoid deforestation. But nothing really is coming and so people are frustrated," says Paulo Barreto, senior researcher with the Imazon Research Institute in Brazil.
"Negotiations have been very slow and there has been no clear commitment that there will be enough money to sustain the Redd projects in the long term."
It is the same story in many parts of Africa, officials and community representatives say.
"These people are waiting for incentives they have been promised," says Rose Akombo, a Redd official with the Kenya Forest Service.
"While we ask them to conserve the forests, we are also limiting their use of forest-based resources which means they need alternative income.
"In other words, they need to be compensated, and that is not happening, which is a matter of huge concern."
Ms Akombo also said that even projects aimed at making communities ready for Redd were not moving in parts of Kenya.
"Even the projects that are supposed to help us prepare for Redd are not moving, mainly because of a lack of funds, so people have a reason to be frustrated."
There are two main projects to implement Redd, one led by the United Nations and the other by the World Bank.
"We have known about this impatience for quite some time now and it is understandable given the time that has elapsed since Redd was first announced at the Bali climate conference in 2007," says the World Bank's Benoit Bosquet, who headed the Forest Carbon Partnership Facility (FCPF) to implement Redd.
"But there is no cookie-cutter formula in this field, because of the socio-economic context of each country.
"There are issues like land tenure, user rights of the people, cultural, economic, and so on that make a pretty complex context."
The World Bank has allowed 44 developing countries to join its FCPF programme.
Another official with the bank, not wanting to be named, said many governments were hurrying to get the Redd programme approved but had not been able to do so because their forest communities said they had not been consulted.
The official also said that many of these communities feared that they might not get the financial payments for the carbon emissions they would save by protecting forests and that the money would go to the central government.
Analysts said the international carbon market was already underperforming and so there were questions over how carbon saved from protected forests would make money.
But Mr Bosquet says money was not the biggest issue.
"There is actually quite a bit of money that is ready to be deployed once these programmes have taken all the necessary preparatory steps to convince the donors," he explains.
Officials with the UN-Redd, another major Redd-related project, say what might appear to be a slow process has actually seen rapid progress.
"If you compare it with other sectors, there is quite a positive energy in the area of forest protection because so much experience has been acquired, I would say dramatically so, in the last five years," says Mario Boccucci, head of the UN-Redd secretariat.
Members of forest communities say they do not understand the politics of climate negotiations, but they do feel that what they were told about forest protection through Redd is not being implemented.
"We were told that by shedding our blood and sweat for forest conservation, we would be saving the planet, and for doing that we would be rewarded handsomely," says Laxmi Ghimire, a community forest user in western Nepal.
"We have lived up to our words but are disappointed that they have not."