Algarve golf courses' growing thirst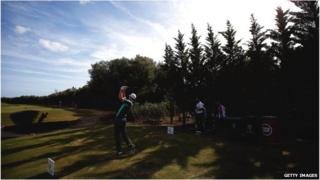 The Algarve has some of the best and most popular golf courses in Europe, but they need a huge amount of water to stay in tip-top shape.
And now scientists have used satellite and weather station data to calculate just how much the greens and fairways of southern Portugal are consuming.
The study shows the Algarve's 40 courses are being irrigated with some 18 million cu m of water a year.
This is the equivalent of more than 700mm of rain.
"The greenkeepers understand the challenges of using so much water and they are introducing efficiency strategies," Prof Celestina Pedras from the University of the Algarve in Faro told BBC News.
She was presenting her work here in Vienna at the European Geosciences Union (EGU) General Assembly meeting.
Golf has boomed in the region since the 1980s when there were just a handful of courses.
The constant sunshine, the proximity to the beach, and the excellent local cuisine have all proven to be a big draw for tourists who also want to drive some balls.
But the Algarve's perfect weather means the region needs also to conserve its water. Faro, the regional capital, receives about 500mm of rainfall per year. Most of this rain is concentrated in winter months, meaning that in summer, the courses must irrigate in order keep the greens and fairways from becoming parched.
Nearly all of this sprinkler water is being taken from boreholes.
Prof Pedras and colleagues looked back through three decades of meteorological data and the long time-series of images taken by the US Landsat spacecraft to complete their study. Landsat allows researchers to assess the state of vegetation.
The team could see that although the consumption of water had increased five-fold since 1980, the practices of golf courses had become less wasteful.
The latest grass technology is being used that requires less water; the soils are being managed in a way so that they hold more water; the agro-climatic parameters are being more frequently monitored; and water is being taken from a wider variety of sources. All of these practices work towards more efficient usage.
It is clear, too, says Prof Pedras, that "deficit irrigation strategies" are being implemented. That is, there is an acceptance of a reduction in quality: the greenkeepers and the players recognise that overly lush greens and fairways would be inappropriate.
"I think players who understand the issues and the need to conserve water will accept playing on courses that are a little yellow," she said.
Jonathan.Amos-INTERNET@bbc.co.uk and follow me on Twitter: @BBCAmos