Airbus drops model 'space jet'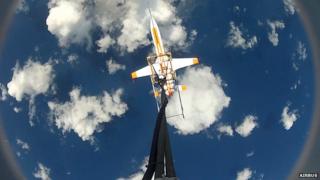 Airbus has released pictures of the recent "drop test" it conducted for its spaceplane concept.
The one-quarter-scale demonstrator was released from a height of 3,000m to learn more about how a real vehicle might behave as it returned to Earth.
The Airbus project has been on a slow burn since being announced in 2007.
If it were ever to go into production, the plane would be aimed at the tourism market, to take passengers on short hops above the atmosphere.
The drop test took place in May, just off the coast of Singapore and was supported by the Singapore Economic Development Board.
It involved a helicopter lifting the model off a barge and then carrying it aloft.
On release, the demonstrator descended under the control of a remote pilot based back on the support vessel.
Ships recovered the model after it ditched in the ocean.
Engineers need to understand how a real vehicle will handle through all its flight phases. The Singapore experiment informs them about the late stages of a mission.
That data can then be fed back into the computer models used to further the design process.
Airbus announced its spaceplane project with great fanfare in the June of 2007, but then had to scale back its vision when the global financial crisis took hold.
But the company's Defence and Space division has never given up on the idea, and development work has continued on various aspects of the concept ever since, including on the rocket engine that would take the craft to sub-orbital altitudes.
This would burn a mix of methane and oxygen.
Unlike the much-talked-about Virgin spaceplane, the Airbus counterpart would take off from a standard runway using off-the-shelf turbofan jets. In many ways, it would resemble an executive jet.
Only when the vehicle reached its "launch" altitude would it ignite the methane-oxygen rocket to complete the ascent to over 100km.
The Virgin approach, in contrast, will use a carrier jet to lift a rocket plane to the launch altitude.
Airbus Defence and Space programme manager Christophe Chavagnac told BBC News: "We have now reached a point where the advanced project is completed - that is, the basic requirements are there.
"Now, we are preparing to shift to the next pre-development phase, and we're currently concentrating on a set of technology demonstrations for the sake of not only the spaceplane but for other applications of Airbus Defence and Space."
An example is further work on the methane-oxygen propulsion system, which could have uses for the company beyond just a spaceplane.
For the vehicle itself to go into production, Airbus has always said it would seek partners.
The Airbus Group, which as well as producing many of the world's airliners, is also Europe's biggest space company and leads the consortium that makes the Ariane rocket.