Tree bumblebee: 'Record sightings' for invasive bee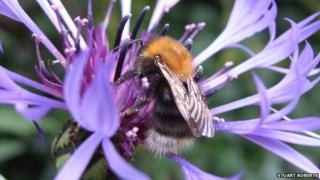 Sightings of an invasive bee species in Britain have reached a record high, the Bumblebee Conservation Trust says.
Tree bumblebees first arrived from continental Europe about 13 years ago, but they have now been seen throughout England, Wales and southern Scotland.
Scientists say it is not yet clear whether their spread is a bonus for the UK's native bumblebees or whether they pose a threat.
It is not clear how the bees found their way to the UK.
It is thought they may have blown across the English Channel or they could have arrived in soil in imported plants.
Bird-box nests
The tree bumblebee (Bombus hypnorum), which is fuzzy, with a ginger head, black body and white tail, is easy to spot. And unusually for a bee, it nests in tree hollows or bird boxes.
It was first spotted in the New Forest in 2001, but it is spreading at a rate of about 12,000 sq km (4,500 sq miles) each year.
Stuart Roberts, who is chair of the Bees, Wasps and Ants Recording Society (BWARS), which works with the Bumblebee Conservation Trust, said the organisation had received a record number of sightings in 2013 and 2014.
"The colonisation and spread of this beautiful bee has been extremely rapid," he said.
The bees have now been found about 20 miles to the north of Glasgow in Scotland, he added.
New research also suggests that the tree bumblebee may be particularly hardy.
A study published in the Journal of Animal Ecology found that the insects are resistant to some nematode worm parasites that can kill off native bumblebees.
The jury is still out, however, as to the wider impact of the bee's arrival.
Prof Mark Brown, a biologist from Royal Holloway, University of London, said: "It could be that these bees are providing additional pollination services - pollinating garden plants, plants in the countryside, or crops.
"It could also be that it is simply filling an empty niche in our ecosystem. In Continental Europe, it lives side-by-side with a lot of the species we have in the UK.
"Alternatively, it may be competing with them for resources - for flowers or nest sites."
This is a peak time of year to spot tree bumblebees: the males can bee seen dancing outside the entrances of nests to attract the attention of the new queens.
Stuart Roberts said that if a nest was found, it should be left alone.
He said: "In the first instance, relax - the nests will be vacated within the next couple of weeks and you are lucky that these first-class pollinators have chosen you!
"Anyone who spots a nest of this delightful bumblebee should report it to BWARS online (with a photo for verification) to help us build up a real-time picture of the expansion of the species across the country."