Children create space menu for UK astronaut Tim Peake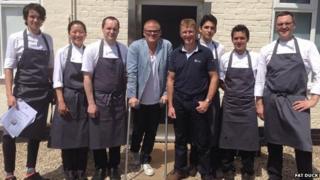 British Astronaut, Tim Peake, and celebrity chef, Heston Blumenthal (centre), have chosen five winners of the Great British Space Dinner contest for school children.
They picked meals that Tim would eat during his mission to the International Space Station (ISS) next year.
The pair said in a UK Space Agency video that they were looking for dishes that were fun, and balanced, and that excited Tim. They also had to have an element of Britishness about them.
The Big Breakfast Launch is a full English breakfast in the guise of a big square burger. The entry was by Archie Luckett of Abberley Parochial VC Primary School in Worcestershire
Space Fuel is a three-course meal that includes soup in a shell of brown bread, ingeniously called a "spaceshoup bar". The idea was entered by Aminah Hussan, Nilum Kaliq and Imran Frooqui, who are all pupils at Plashett School in East Ham.
The Rocket Lolly is a three-course meal in a lolly. It consists of tomato and basil soup, a spicy mackerel curry and Eton mess. The meal was created by Ellie Hiscock, Katie Perry, Nafissa Khan, MIa Tinnion and Suzi Peacock from Emmanuel College in Gateshead.
The Nova Tiffin Capsule is an Anglo-Indian meal of spicy fusion food and a rhubarb and custard dessert, and is designed to be taken into space in a tiffin carrier. It was created by Chloe Cockshull from the Nova Hreod Academy in Swindon.
Space Menu, by Joseph Drennan of Wray Common Primary School in Reigate, consists of tomato and rocket soup, beef stew with asteroid dumpling, and a chocolate mousse with space dust.
The winners will be invited to Heston's development kitchens to work with him for the day to develop their ideas further, to turn them into dishes that can be launched into space with Tim next year.