Beef environment cost 10 times that of other livestock
By Matt McGrath
Environment correspondent, BBC News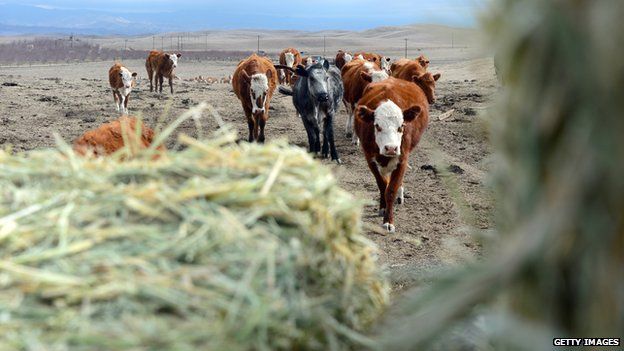 A new study suggests that the production of beef is around 10 times more damaging to the environment than any other form of livestock.
Scientists measured the environment inputs required to produce the main US sources of protein.
Beef cattle need 28 times more land and 11 times more irrigation water than pork, poultry, eggs or dairy.
While it has long been known that beef has a greater environmental impact than other meats, the authors of this paper say theirs is is the first to quantify the scale in a comparative way.
The researchers developed a uniform methodology that they were able to apply to all five livestock categories and to four measures of environmental performance.
"We have a sharp view of the comparative impact that beef, pork, poultry, dairy and eggs have in terms of land and water use, reactive nitrogen discharge, and greenhouse gas emissions," lead author Prof Gidon Eshel, from Bard College in New York, told BBC News.
"The uniformity and expansive scope is novel, unique, and important," he said.
The scientists used data from from 2000-2010 from the US department of agriculture to calculate the amount of resources required for all the feed consumed by edible livestock.
They then worked out the amount of hay, silage and concentrates such as soybeans required by the different species to put on a kilo of weight.
They also include greenhouse gas emissions not just from the production of feed for animals but from their digestion and manure.
As ruminants, cattle can survive on a wide variety of plants but they have a very low energy conversion efficiency from what they eat.
As a result, beef comes out clearly as the food animal with the biggest environmental impact.
As well as the effects on land and water, cattle release five times more greenhouse gas and consume six times more nitrogen than eggs or poultry.
Cutting down on beef can have a big environmental impact they say. But the same is not true for all livestock.
"One can reasonably be an environmentally mindful eater, designing one's diet with its environmental impact in mind, while not resorting to exclusive reliance on plant food sources," said Prof Eshel.
"In fact, eliminating beef, and replacing it with relatively efficiency animal-based alternatives such as eggs, can achieve an environmental improvement comparable to switching to plant food source."
Other researchers say the conclusions of the new study are applicable in Europe, even though the work is based on US data.
"The overall environmental footprint of beef is particularly large because it combines a low production efficiency with very high volume," said Prof Mark Sutton, from the UK's Centre for Ecology and Hydrology.
"The result is that the researchers estimate that over 60% of the environmental burden of livestock in the US results from beef. Although the exact numbers will be different for Europe (expecting a larger role of dairy), the overall message will be similar: Cattle dominate the livestock footprint of both Europe and US."