Elephant poaching deaths reach tipping point in Africa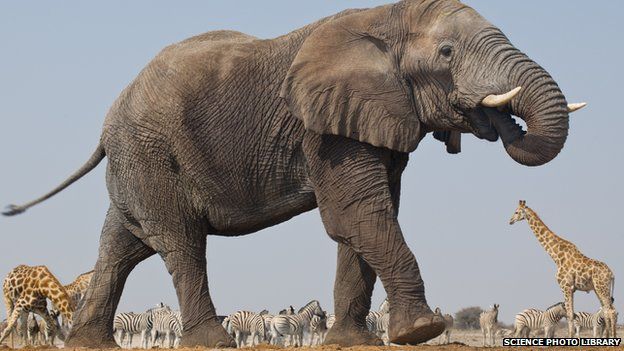 Africa's elephants have reached a tipping point: more are being killed each year than are being born, a study says.
Researchers believe that since 2010 an average of nearly 35,000 elephants have been killed annually on the continent.
They warn that if the rate of poaching continues, the animals could be wiped out in 100 years.
Lead author George Wittemyer, from Colorado State University, said: "We are shredding the fabric of elephant society and exterminating populations across the continent."
The illegal trade in elephant tusks has soared in recent years, and a kilogram of ivory is now worth thousands of dollars. Much of the demand has been driven by a rapidly growing market in Asia.
While conservationists have long said the outlook was bleak, this study provides a detailed assessment of the impact this is having on Africa's elephants.
The researchers have found that between 2010 and 2013, Africa lost an average of 7% of its entire elephant population each year.
Because elephant births boost the population by about 5% annually, this means that overall more of the animals are being killed than are being born.
Julian Blanc, who also worked on the study, from the Convention on International Trade in Endangered Species of Wild Fauna and Flora (Cites), said: "If this is sustained, then we will see significant declines over time.
"The other thing to bear in mind is that different areas are affected differently.
"There are still healthy growing populations in parts of Africa, Botswana for example. But in other places the poaching levels are devastatingly high, and that is particularly the case in Central Africa."
In Central Africa it is estimated that elephant numbers have fallen by about 60% in a decade.
Prof Wittemyer added: "We are talking about the removal of the oldest and biggest elephants.
"That means removal of the primary breeding males and removal of family matriarchs and mothers. This leaves behind orphaned juveniles and broken elephant societies."
Conservationists said urgent action was needed.
John Scanlon, secretary-general of Cites, said: "The world needs to decide how much further effort it wants to put into the conservation of this magnificent species and, if so, be prepared to mobilise the necessary human and financial resources to deliver - and we are seeing some encouraging signs in this regard.
"In terms of concrete actions, we need to move to focus on the front-line and tackle all links in the illegal ivory trade chain - improve local livelihoods (for those living with elephants), strengthen enforcement and governance and reduce demand for illegal ivory. "
Related Internet Links
The BBC is not responsible for the content of external sites.