Scottish independence: Future of science contested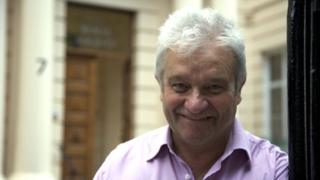 Sir Paul Nurse, the President of the Royal Society, has said many scientists are "very worried" about the impact of Scottish independence on research.
Other academics, including the EC scientific adviser Prof Anne Glover, say science could have an even brighter future in Scotland after a "yes" vote.
Contrasting hopes and concerns were aired at the British Science Festival and during a BBC Inside Science debate.
Science minister Greg Clark said a split would be a "tragedy" for science.
The "Yes" campaign, however, has previously offered a guarantee that research funding would be maintained, if not increased, in the event of separation, and intends to preserve a "common research area" in combination with the rest of the UK.
Prof Nurse however, who is also the director of the Francis Crick Institute, is more sceptical about whether research councils could continue funding research in an independent Scotland.
Quality of debate
Speaking to the BBC at the British Science Festival in Birmingham, Prof Nurse said that independence poses problems for research both north and south of the border, which would need to be solved. He also echoed a previous call for science, and scientists, to play a more central role in the independence debate.
"The Scottish economy is going to have to be driven by scientific knowledge, so it's very, very important.
"There have been concerns about the quality of the debate in Scotland. Some academics have been inhibited about speaking out, because they were concerned, they said, about funding in the future if they expressed certain opinions - yes or no. But I think the concerns were mainly that if they said no, that might be a problem.
"If the universities feel they can't speak out, then that's a real problem for a good democratic debate. The politics on all sides should simply say: Let the universities say what they want."
Alongside the vigorous discussions taking place inside research institutions and laboratories across the UK, and even around the world, several researchers have indeed spoken publicly this week - on both sides of the debate.
Prof Anne Glover, an eminent biologist at the University of Aberdeen and Chief Scientific Adviser to the European Commission, addressed concerns that funding for research would suffer following a "yes" vote.
"If the people of Scotland voted for independence, it would be up to the subsequent government and the people of Scotland to decide on the investment in research," she told the BBC.
Prof Glover pointed out that Scotland's research impact, relative to GDP, has been rated number one in the world, which makes a strong investment case.
"The present Scottish government and perhaps future independent governments would see this as an asset worth investing in," she said.
"There is no certainty either way but if the Scottish people vote for independence, the overwhelming difference will be that, if they do not like the direction their elected government is taking, they will be able to vote it out at the next election."
Transition period
Dr Michael Craig is a Scottish neuroscientist currently observing the debate from Washington DC, where he works at the National Institutes of Health. A firm believer in independence, he concedes that keeping UK research council funding seems unlikely but suggested, like Prof Glover, that Scotland's higher per-capita GDP could help offset those losses.
"Given coalition cuts - in real terms - to research budgets, Scottish institutions could benefit from a more pro-investment Scottish government," Dr Craig told BBC News.
"I think, overall, science in Scotland would benefit from independence in the medium to long term, but there may be a painful 5 to 10 year transitional period. Personally, I think this is a price worth paying."
The uncertainty surrounding how the transition would proceed was highlighted by Greg Clark, appointed to replace David Willetts in July as minister for universities and science.
Speaking to reporters following a public event at the science festival, Mr Clark said "no-one knows" how negotiations would work.
Earlier, when questioned by BBC presenter and scientist Prof Alice Roberts, from the University of Birmingham, Mr Clark agreed that Scottish universities do "justifiably, fantastically well" in competitive research grants, further suggesting that a split would be "a real step backwards".
"I very much hope in the interests of science and the prestige of UK science that they stick with us."
Prof Nurse's hopes are similar: "Separating Scotland away from the rest of the United Kingdom is a problem for Scotland and it's a problem for the rest of the UK."
He added that science benefits from open borders and unrestricted cooperation. One of the reasons for the research strength of the US, Prof Nurse explained, was not just its financial resources but that "it's a big, single market for science".
"Scotland will become rather small if it separates from the rest of the UK. It will have to work very hard at maintaining links and that isn't always so easy."
Others say that a new national border need not interfere with collaboration.
Prof Mike Lean, chair of human nutrition at the University of Glasgow, told BBC Inside Science, "We are running clinical trials in different countries at the moment. We have good cooperation between ethical bodies in different countries and nothing's going to change."
So what is the balance of opinion among those scientists who will get a vote?
A recent poll by Times Higher Education found that within scientific fields, 69% of academics thought sticking with the union would be best for Scottish universities, compared to 21% who favoured independence. (In other academic disciplines, the results tipped in the other direction, with 43% favouring the union and 44% independence.)
Earlier in the year, the Academy of Medical Sciences surveyed its fellows in Scotland and found that 91% expected independence to have a negative effect on biomedical research.
Prof Nurse's own anecdotal impression, he said, is similarly pro-union. "Nearly everybody that has spoken to me is very worried if there's a yes vote," he told BBC News.
"I am reading and hearing about some who are in favour of it, obviously, but most of my closer colleagues are very concerned. What's perhaps worrying is, these are amongst the finest scientists in Scotland. And if they're bothered, I think if I was in Scotland, I'd be bothered."
Prof Lean, however, insisted the funding question was soluble and said there were other issues at stake.
"The big issues for the independence debate are not about funding - it'll stay there. It's about a more socially just environment for the people of Scotland."