First ban on shark and manta ray trade comes into force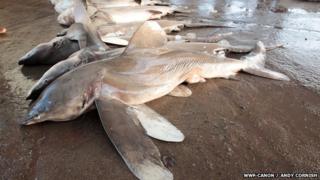 All trade in five named species of sharks is to be regulated from now on, in a significant step forward for conservation.
Without a permit confirming that these sharks have been harvested legally and sustainably, the sale of their meat or fins will be banned.
The regulation was agreed last year at a meeting of the Convention on International Trade in Endangered Species (Cites) in Thailand.
The rules also apply to manta rays.
Shark numbers have been under severe pressure in recent years as the numbers killed for their fins soared.
Scientific estimates put the number at about 100m a year, with demand driven by the fin soup trade in Hong Kong and China.
Campaigners have been seeking to stop the unregulated trade in sharks since the 1990s but it was only at the Cites meeting in Bangkok last year that they finally managed to achieve sufficient votes to drive through the ban.
From Sunday, the oceanic whitetip, the porbeagle and three varieties of hammerhead will be elevated to Appendix II of the Cites code, which means that traders must have permits and certificates.
Manta rays, valued for their gills which are used in Chinese medicine, will also be protected.
The survival of all these species has been threatened by over fishing.
Tangible protection
The move is seen as the most significant move in the 40 year history of Cites to protect these species.
"Regulating international trade in these shark and manta ray species is critical to their survival and is a very tangible way of helping to protect the biodiversity of our oceans," said Cites Secretary General John Scanlon.
"The practical implementation of these listings will involve issues such as determining sustainable export levels, verifying legality, and identifying the fins, gills and meat that are in trade. This may seem challenging, but by working together we can do it and we will do it."
Under the regulations, all trade in these sharks and rays across 180 countries will not be allowed unless they have been authorised by the designated national authorities.
Trade in shark fins has already declined significantly as a result of campaigns to raise awareness. Recently it's been reported that sales have gone down by 70%.
Earlier this year the hotel chain, Hilton Worldwide stopped serving shark fin at its 96 owned and managed Asia-Pacific properties.
However several countries have entered reservations to the Cites regulations on some of these species.
Denmark (on behalf of Greenland), Canada, Guyana, Japan, Iceland and Yemen have all said they will not be bound by the new rules and will continue to fish for some or all of these species.
Under the regulations though, they are only able to trade with other countries that have also registered a reservation.
Officials from Cites point out that for such a controversial issue, the number of countries registering reservations is small. The point to the fact that China, the main consumer market, has not done so.
Follow Matt on Twitter @mattmcgrathbbc.