The 'green blob' loves Mr Ban - but for how long?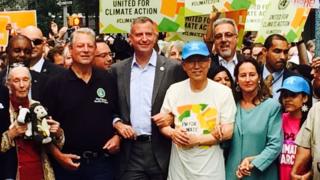 Former British Environment Secretary Owen Paterson would not have been a happy chappy if he had been in New York for the culmination of a global day of protest against a lack of political action on climate change.
In Mr Paterson's words, the world of environmental activism is the green blob - "a mutually supportive network of environmental pressure groups, renewable energy companies and some public officials who keep each other well supplied with lavish funds, scare stories and green tape".
Well, Manhattan on Sunday may have seemed like "blobageddon" to Mr Paterson.
Here was a baseball capped Ban Ki-moon, standing shoulder to shoulder with groups as diverse as Queers for Climate, Reverend Billy and the Church of Stop Shopping, the Granny Peace Brigade and the New York City Breastfeeding Leadership Council.
One woman I spoke to was wearing a placard that said "Mississippi wants climate justice right now!"
I asked the wearer why she was marching.
"I am here because there's no justice. Congress are fighting against President Obama where the poor cannot get their trickle down for housing and disability," she replied.
It seemed a long way from hungry polar bears and ruined rainforests.
The fact is that climate change has become a very broad church, covering almost every natural grievance.
Be it too many people chasing too few resources, the over exploitation of natural assets, declining returns from land and sea, climate is seen to play a major part.
But it is too easy, and plain wrong, to put all this down to environmental bandwagonism - here come all the people, chanting together.
The reality of the People's Climate March was that it was full of ordinary people as well as the more colourful, activist elements.
I saw tens of thousands of regular joes and josephines, couples with their kids, senior citizens, even teenagers who'd managed to wake up in time.
For many, if not all of the marchers, with their very different takes on how climate change affects them, the collective sense was disempowerment.
They want things to be different, they want a better world, but they feel that they do not have the real power to change it.
That's why Ban Ki-moon's participation was more than just a photo opportunity.
According to the Mayor of New York, Bill de Blasio, Mr Ban's march was important and significant.
"I give tremendous respect to the Secretary General for involving himself in a type of truly universal social protest," he said.
"I think it is very powerful that the head of the closest thing we have got a truly global government, is with the people today, marching with activists, saying this is the change that the grassroots are demanding. That alone signifies a break with the past."
By making common cause with the grannies, the fishermen, the students and the immigrants who marched through Manhattan, Mr Ban is trying to forge political will from popular action.
He is doing this because climate change has failed to galvanise enough support among global leaders to merit the type of annoying, restrictive but effective laws that make people change their ways.
For a few short hours, the green blob was in love with Mr Ban, and he said that he felt like the Secretary General of the whole world.
Mr Ban asked the crowd for its energy and its faith. Trust me, and I will deliver a strong global deal on climate change.
But on Tuesday, when the hard eyed heads of government gather, Mr Ban may find it is easier to win the hearts of the streets, than it is to win concessions from global leaders.
But at least the man is trying.