Dairy farmers to protest over milk price cuts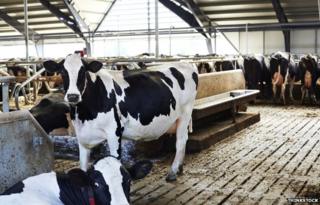 Dairy farmers hit by a series of price cuts say they will take direct action in the next four days.
With fresh cuts announced this week, the amount farmers receive for their milk has been slashed each month for the last four months.
Some farmers now face revenue losses of up to 25%.
Speaking at the Dairy Show at the Bath and West Showground, the chair of lobby group Farmers for Action said protests would begin within the next week.
This show is one of the most important events for dairy farmers.
There are around 14,000 dairy farmers in the UK, producing a record 3.3 million litres a day. Farmers for Action (FFA) represents around a third of them.
"Talking has run out," said FFA Chairman David Handley.
"The processors don't seem to understand it. Why do they cut prices? Because they can.
"Look at the cars they drive - who's making a living out of milk? I can tell you, as a dairy farmer, I'm not."
The average cost of production of a litre of milk is just over 30p. The typical price paid is now around 28p, down from around 35p in April. More cuts are predicted.
Perfect storm
The big milk buyers, such as Arla, Dairy Crest, Muller and First Milk, say that the cuts are down to a variety of factors.
One is global commodity prices: farmers worldwide are producing more milk, while at the same time demand, particularly in China, is falling. The Russian import ban has also had an impact, as have supermarket price wars.
The Chair of the NFU Dairy Board, Rob Harrison, argued that price fluctuations are down to the global commodities market, and that not much can be done.
"Ultimately we have a supply and demand situation, we are in free markets, and it is really really difficult to actually do anything about it."
But FFA argues that, since more than 80% of the milk produced by UK dairy farmers is used in this country, they should be immune from global dairy price cuts.
According to independent dairy analyst Ian Potter, world demand is growing at 2.5% while growth in world production has catapulted to 5%.
"We are producing twice as much as is needed," he said. "Throw in to that the Russian import ban and this is an accelerating downward spiral.
"It's the perfect storm and it's come so quickly it's taken everyone by surprise. There is no glimmer of light, the market is continuing to track down. It's a vortex that everyone is being sucked in to - there are farmers now staring down the gun barrel."
Stuart Perry, 29, farms a herd of 130 dairy cows in East Devon. He only got in to the industry early this year. He has a wife and a 14-month-old daughter.
"I'm very worried," he told the BBC. "For the next 12 months there are going to have to be cuts in the business. Things are going to be very tight, we are going to have to make savings wherever we can."
Would he consider protesting? "Yes, in the right way, if it's dignified and sensible. As an industry we need to show one voice."
According to David Handley, in one morning his group had received around 250 emails from farmers and farmers' wives fearful for their future.
"I had a lady on the phone this week, very concerned about her husband, saying he might be contemplating suicide. This is the kind of pressure they are facing."