Rosetta mission: Name sought for comet landing site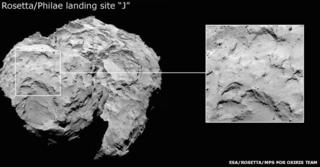 The public are being invited to name the site on a comet where a European robot will try to land on 12 November.
A successful touchdown for the Philae probe on the 4km-wide "ice mountain" would be a first in space exploration.
Mission planners are keen therefore to find a suitable title to commemorate the historic piece of real estate.
Any name (except that of an individual) can be put forward. The rules call for a maximum 200-word justification to be submitted in support of a proposal.
Entries have to be received before Thursday GMT next week.
The judging panel will announce the winner on 3 November.
Full details can be found on the website of the European Space Agency.
The audacious landing event is part of the Rosetta mission to Comet 67P/Churyumov-Gerasimenko.
This will see a satellite drop Philae on to the rubber-duck-shaped ice object from a distance of about 20km.
If the robot manages to get down safely, it will take pictures of the surface of 67P and analyse its chemical composition.
Scientists hope this will give them some fresh insights on how comets are constructed.
A broad region on the "head" of the object has been identified as the target touchdown location.
To date this has been known simply as "Site J" - a classification assigned to it in the list of possible destinations considered in the selection process.
Now that J's status has been confirmed, a real name with resonance is required.
The competition winner will be able to follow the landing day drama in person at Esa's mission control centre in Darmstadt, Germany.
Comet 67P/Churyumov-Gerasimenko
Named after astronomers Klim Ivanovych Churyumov and Svetlana Ivanovna Gerasimenko who first identified the object in 1969
Perturbed into the inner Solar System, it is now a "Jupiter class" comet that takes 6.45 years to complete one full circuit of the Sun
Its orbital path brings it as close as 180 million km from our star (inside Mars' orbit), and sweeps it out as far as 840 million km
The icy core, or nucleus, is about 4km across (the largest dimension on the bigger of the lobes) and takes 12.4 hours to rotate
Sensing its gravitational tug, Rosetta has measured Comet 67P to have a mass of roughly 10 billion tonnes, or a trillion kilograms
The published volume is 25 cubic kilometres, which gives it a bulk density of 400kg per cubic metre - similar to some woods
Jonathan.Amos-INTERNET@bbc.co.uk and follow me on Twitter: @BBCAmos