Breakthrough science prize: Big names add glitz to ceremony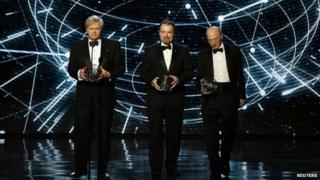 Top scientists have been awarded huge cash prizes at a ceremony on Sunday in California.
The Breakthrough Prize is backed by leading technology entrepreneurs, such as Facebook's CEO Mark Zuckerberg and Google co-founder Sergey Brin.
The awards were presented in three categories, mathematics, life sciences and fundamental physics.
It was set up to to celebrate scientists and generate excitement about their work.
A total of $36m (£23m) was awarded in the ceremony, with each winner (or group of winners) taking home $3m (£1.9m), more than any other award for scientific work, including the Nobel Prize.
Winners included a team of astrophysicists who discovered that the expansion of the universe is accelerating rather than slowing, as it had long been assumed. This team, Saul Perlmutter, Brian Schmidt and Adam Riess had in 2011 also won the Nobel prize for physics for the same work.
Prof Perlmutter said that it was great that the prize awarded whole teams working on a project.
"What's wonderful this time is that it gets spread among the entire research group that was able to work on this project, and that's very unusual for a prize, it's very rare that you really recognise that science nowadays isn't the lone scientist in the white coat going off into a lab by himself, it's really this very social activity."
The French neurosurgeon, Alim Louis Benabid of Joseph Fourier University, won in the category for life sciences for his pioneering work on deep brain stimulation and the treatment of Parkinson's disease.
The Silicon Valley ceremony was held in a retired Nasa airship station Hangar One, in a star studded affair hosted by creator of Family Guy Seth MacFarlane. Several celebrity presenters awarded the prizes such as Benedict Cumberbatch who played mathematician Alan Turing in The Imitation Game.
Space entrepreneur Elon Musk, actress Cameron Diaz and Eddie Redmayne - who played Stephen Hawking in The Theory of Everything biopic, were among other presenters.
Mark Zuckerberg said: "The world faces many fundamental challenges today, and there are many amazing scientists, researchers and engineers helping us solve them.
"This year's Breakthrough Prize winners have made discoveries that will help cure disease and move the world forward. They deserve to be recognised as heroes."
Yuri Milner, a Russian billionaire entrepreneur who also backed the prizes, said: "Most of our time is spent on mundane matters.
"Tonight we thought about the molecules of life, the structure of prime numbers, and the fate of the Universe. It was an uplifting occasion for everyone."
UK physicist Prof Dame Athene Donald of Cambridge University was critical of the prizes, she described them as being a sort of "vanity prize" organised by billionaires.
"It seems that the Breakthrough Prize is not yet as credible as the Nobel Prize. The fact that there is so much showbiz involvement may not help that credibility," Prof Donald told BBC News.
"I also worry that their publicity is essentially that, rather than actually trying to inform and enthuse the public, and reach out to school children."