Comet lander: First pictures of Philae 'bounce' released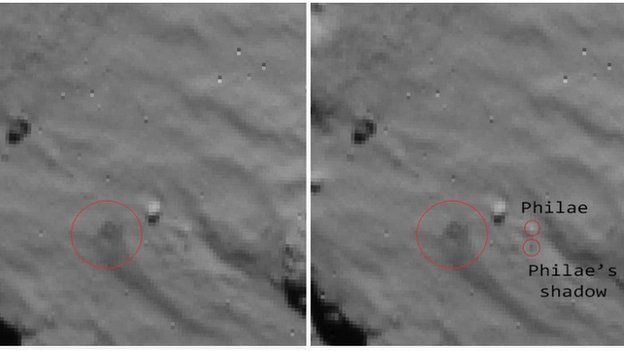 Images of the Philae probe moments after its initial touchdown have been published by the European Space Agency.
There was a nerve-wracking wait after the 100kg lander re-bounded 1km back into space following its first contact with Comet 67P.
It successfully landed two hours later, hundreds of metres away from its intended spot.
A camera on the Rosetta "mothership", which dropped Philae on to the surface, caught the robot mid-bounce.
The Navcam's photographs were unveiled on the Rosetta Blog, showing a few pale pixels - thought to be Philae - accompanied by a dark patch, which experts conclude is its shadow.
Observers from the agency's flight dynamics team spent hours analysing the images, and were assisted in their work by some eagle-eyed members of the public who also reviewed the pictures.
Philae has returned its own photos and other data to Earth from the location where it finally came to rest, but until now scientists have not had access to images taken of the probe in the act of landing.
Quite where the final resting location is remains under analysis. The probe became pressed up against walls that blocked sunlight from reaching its solar panels. When the robot lost charge in its battery, it went into sleep mode - and controllers have not heard from it since.
Engineers have attempted to maximise the chances of it receiving charge in the future by changing its orientation.
Just before the robot went to sleep, it was commanded to raise itself by 4cm and rotate its main housing by 35 degrees in order to ensure the largest of its solar panel catches the most light.
Prof Mark McCaughrean, Esa's senior scientific adviser, has described the agency as "hugely happy" with the information relayed by Philae so far.