SpaceX capsule docks with ISS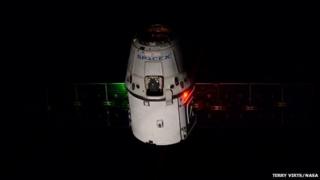 The privately built Dragon capsule has docked with the International Space Station (ISS) carrying a much needed cargo of supplies.
It marks a successful completion to the main mission for US company SpaceX.
But a test designed to bring part of the launch rocket down to a soft landing on a floating sea platform at the weekend did not work as planned.
ISS commander Butch Wilmore used a robot arm to grab the capsule and its 2,300kg (5,000lbs) of precious cargo.
The space station's six astronauts were running down their supplies because the previous American supply ship - owned by Orbital Sciences - was destroyed in an explosion shortly after launch in October.
Saturday's landing test was designed to demonstrate a capability that could dramatically lower launch costs in the future.
It involved flying the first stage of SpaceX's Falcon rocket back to a drone ship sitting 300km off the coast of Cape Canaveral in Florida.
The CEO of SpaceX, Elon Musk, tweeted that the booster had hit the platform hard and had been lost.
He later added that aerodynamic fins on the rocket had run out of hydraulic fluid just before landing.
The company intends to keep working on the technology that would allow normally disposable rockets to be recovered, refurbished and re-used.