Russia extends space station role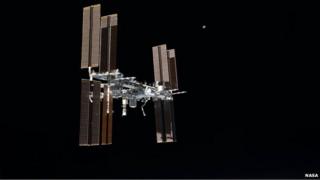 Russia has now committed itself to operations on the International Space Station until 2024, after which it says it may undock its modules.
The separation of its end of the orbiting platform would "ensure Russia's guaranteed access to space," Moscow officials said in a statement.
Until today, only the Americans had committed to go beyond 2020.
The other partners - Europe, Japan and Canada - have expressed interest, but have given no firm undertaking.
Engineers believe the ISS could function safely until at least 2028.
US President Barack Obama gave his country's pledge on 2024 operations a year ago.
Roscosmos - the Russian space agency - made its intentions clear in a plan for future activities. Previous statements from Moscow seemed to indicate it might not wish to participate in the ISS project after 2020.
As well as talking about the space station, the report, produced by the agency's scientific and technical council, mentions robotic and manned missions to the Moon. The former would dominate up to 2030, it says. The emphasis would then switch to cosmonaut missions.
Amid disagreements over Ukraine, the space programme is one of the few areas where Moscow and Washington still actively work together.
Since the retirement of the US space shuttles in 2011, Russian Soyuz capsules have become the only means of getting astronauts to the station. America buys seats in the vehicles for about $70m per crewmember.
The Roscosmos scientific and technical council talks boldly about using elements of the ISS to form the basis of an ongoing Russian space station - when the current international partnership is finally dissolved.
There has long been a suggestion that Moscow might want to do this. Just how feasible it would be is unclear, however.
Russia's Zarya unit was the very first module to be launched back in 1998. Its Zvezda element followed two years later and contains the computer system that controls the entire platform today.