SpaceX launches electric satellites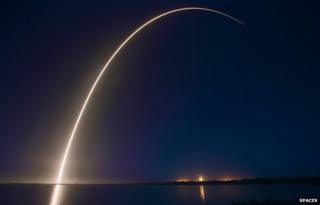 US rocket company SpaceX has performed its first dual-satellite mission.
The firm's Falcon 9 vehicle put up two telecommunications spacecraft on Monday (GMT) - one for Eutelsat and one for the Asia Broadcast Satellite operator.
Both spacecraft will use electric engines to get into their final orbital positions 36,000km above the equator.
The use of this type of propulsion - which accelerates xenon ions to provide thrust - is seen as a big trend in spacecraft design and deployment.
The efficiency of electric thrusters does away with the bulky fuel tanks required by traditional chemical engines.
This means either more payload components can be fitted on to a satellite of a given mass, or the mass itself can be driven down to allow the satellite to launch on a smaller, cheaper rocket - such as the Falcon.
The downside is that it takes longer for a spacecraft to get into position once it is dropped off in orbit - on the order of months rather than weeks.
Eutelsat does not expect its new "bird", 115 West B, to be on station for eight months, meaning it will be the end of the year before it enters commercial service.
Nonetheless, the Paris-based operator intends to launch even more all-electric satellites in the future.
"We are delighted to see Eutelsat 115 West B on its way into space and thank SpaceX for this successful launch," Eutelsat Chairman and CEO Michel de Rosen said in a statement issued from the launch site at Cape Canaveral in Florida.
"With this satellite we are trailblazing a new era of electric propulsion for orbit raising that opens opportunities for greater efficiency and higher competitivity. It's another first in Eutelsat's 30-year track record of innovation that propels our industry onto the next stage."
The performance required by the Falcon to launch the two satellites on Monday meant that it could not, on this occasion, make another attempt to land its first stage.
Recent flights have seen SpaceX trial technologies for recovering the lower segment of the vehicle, with the intention of refurbishing and re-using it.
The experiments involve the first stage guiding itself back to Earth to attempt a soft touchdown on a floating platform in the Atlantic. The tests have not yet achieved complete success, but SpaceX believes it is getting very close.
Jonathan.Amos-INTERNET@bbc.co.uk and follow me on Twitter: @BBCAmos