Kew Gardens funding cuts 'recipe for failure'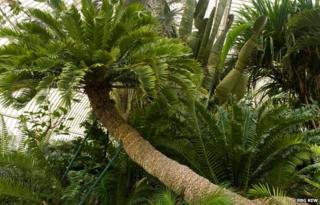 The government's financial management of Kew Gardens is "a recipe for failure", MPs have said.
The Science and Technology Select Committee warns that cuts in government funding are placing Kew's world-class science status at risk.
The London-based organisation faces a financial black hole £5.5m a year and has lost 47 core science posts.
The report said Kew needed long-term funding in place and more control over its spending.
Andrew Miller MP, chair of the committee, said: "The current strategy - or lack of strategy - is a recipe for failure.
"Everyone recognises that the work being done (at Kew) is not just of national importance, it is of global importance. We've got to fund it properly and it needs stability."
For more than 250 years, the Royal Botanic Gardens, Kew, has been the world's leader in botanical research.
It has more than seven million plant and fungi specimens, making it the largest collection in the world.
But the Science and Technology Select Committee warned that its future was uncertain.
Kew said the Department for Environment, Food and Rural Affairs (Defra) had cut its funding by £2m a year.
This, combined with a loss in funds from Kew's main charity supporter and rising overheads, means it is facing an annual deficit of £5.5m.
While extra money from the government has been announced - two one-off payments of £1.5m and £2.3m - the Select Committee says this is not enough.
The MPs criticize the government for having no long-term funding in place, saying that this leaves Kew with little ability to plan for the future.
Mr Miller said: "The nature of the research undertaken in Kew does need a very long term perspective. If we don't do that, you might as well not do the work."
They also accuse Defra of micromanaging Kew's finances, stating that too many of the organization's spending decisions have to be signed off by the government.
The report compares Kew to the Natural History Museum, another London-based organisation that is both a visitor attraction and centre for research.
It says the museum receives £44m a year from the government, more than twice the amount that the Royal Botanic Gardens gets, and it also has greater financial freedom.
The MPs said there should be more consistency of treatment between the two organisations.
Last week, Kew announced its new science strategy, outlining where it will focus its research in the coming years.
Plans include digitising its plant and fungi collections, an annual health check of the world's flora and hosting an MSc course in taxonomy.
However, it is pared-back vision. Just under a quarter of its core science posts have been cut.
Richard Deverell, director of the Royal Botanic Garden, Kew, said: "We have had a very serious financial challenge last year at Kew, and we make no secret of that.
"We had to lose a number of posts, we had to restructure. I hope we are through the worst of that.
"We have as an absolute priority growing our own income at Kew, but we also need long-term financial support from government as part of a mixed funding model."
Commenting on the report, a spokesperson for Defra said that Kew Gardens had received extra money for its Millennium seed bank and the refurbishment of Temperate House.
She said that the government would be reviewing how Kew was funded and the freedom it is given over its budget.
"Kew is a world-leader in plant science and research," the spokesperson said.
"We are proud of the vital work carried out by Kew - that is why we have given it on average more money per year from 2010 than in the preceding three years, with more money next year provided as 'unrestricted' funding."
Follow Rebecca on Twitter