Korea's Hoesung Lee named head of UN climate panel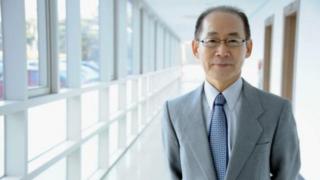 Hoesung Lee of South Korea has been named the new head of the Intergovernmental Panel on Climate Change (IPCC), the UN body tasked with assessing climate science.
Prof Lee, an expert on climate economics and sustainable development, was elected to chair the panel at its ongoing meeting in Dubrovnik, Croatia.
He is the fourth person to lead the IPCC in its 27-year history.
He succeeds Rajendra Pachauri, who resigned amid a scandal in February.
Dr Pachauri's 13-year tenure was controversial and his departure even more so, happening after allegations of sexual harassment - which he denied.
Observers have suggested that Prof Lee is, comparatively, a very safe choice.
There were five other nominees in the one-country, one-vote election. In a final run-off ballot, Prof Lee defeated Jean-Pascal van Ypersele from Belgium, 78 votes to 56.
Prof Lee told BBC News he was "very much honoured and very grateful" that the panel had elected him.
'Diversity needed'
In his term, set to last six to eight years, he will oversee a new chapter for the IPCC following a series of five major reports on climate change, which culminated in November 2014.
He said this new phase would see the panel increase its focus on the regional impacts of climate change, especially for developing countries - as well as promoting more diverse voices.
"I believe it's very important that for the next round of assessment, we should be able to increase the intellectual contributions from developing countries," he said. "And also improving gender balance in our author teams is very, very important."
---
Analysis: Roger Harrabin - BBC Environment Analyst
The IPCC has been massively influential in the climate change debate.
It was set up as a consensus forum to deliberate on climate science and policy.
In 2010, the panel came under fire after an uncorrected blunder in a report on glaciers.
The chairman Rajendra Pachauri was criticised for brushing off the incident, and for adopting a strident tone over the need to cut CO2.
Contrarians subjected the panel to serious scrutiny, but the IPCC's last report in 2014 went some way to answering critics.
Most significantly, almost all the world's governments have accepted that emissions of CO2 from human activities are warming the planet. And most have pledged to the UN in advance of the forthcoming Paris climate change summit that they will act to cut carbon.
So to an extent, the IPCC has done its job, and it is less important now whose hand is at the tiller – so long as they don't crash the ship.
Follow Roger on Twitter
Arthur Petersen, a professor at University College London and former member of the Netherlands' IPCC delegation, said he was unsurprised by the decision.
He told the BBC that there had been a "really good" campaign behind Prof Lee, putting him forward as "someone who sits between the developed and the developing world".
But Prof Petersen also characterised the decision as conservative, adding that there is much work ahead to make sure any refreshed commitment to developing countries does not ring hollow.
"It is the standard line - more involvement of developing countries," he said.
"But the question is, how can you do that? How can you really generate a larger author base? I haven't really seen anything coming from that direction."
He said if the IPCC wants that broader base, it must help stimulate the necessary training in those developing countries.
Follow Jonathan on Twitter