COP27: Why is the Paris climate agreement still important?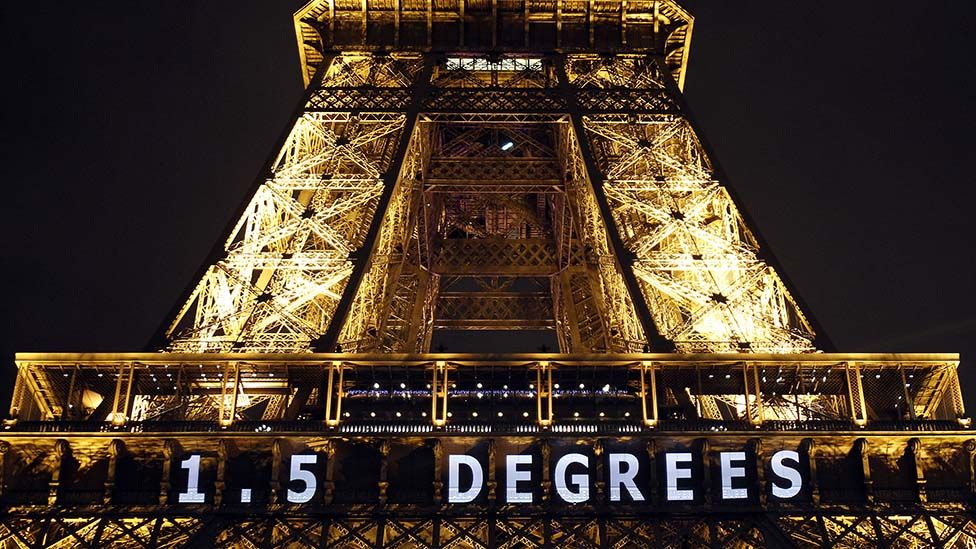 The nations of the world are due to meet at the COP27 summit in Egypt, to try to agree far-reaching action on climate change.
They are under pressure to improve on landmark commitments they made seven years ago in Paris.
What is the Paris Agreement?
The Paris Agreement saw almost all the world's nations - for the first time - support a common strategy to cut the greenhouse gas emissions which cause global warming.
Adopted by 194 parties (193 countries plus the EU) in the French capital on 12 December 2015, the treaty came into force on 4 November 2016.
To "pursue efforts" to limit global temperature rises to 1.5C, and to keep them "well below" 2.0C above pre-industrial times
To limit greenhouse gas emissions from human activity to the same levels that trees, soil and oceans can absorb naturally - known as net zero - between 2050 and 2100
Each country to set its own emission-reduction targets, reviewed every five years to raise ambitions
Richer countries to help poorer nations by providing funding, known as climate finance, to adapt to climate change and switch to renewable energy
Why is it so significant for COP27?
Some of the key discussions in Sharm el-Sheikh, Egypt will be about whether and how countries are building on what they promised in Paris.
When the agreement was signed, governments admitted the targets set would not be enough to limit global warming to 1.5C.
At the COP26 climate summit held in Glasgow in 2021, some countries brought forward new targets. But even with these pledges, global warming would still only be limited to 2.1C, according to the independent Climate Action Tracker.
Parties were again asked to submit more aggressive targets for reducing emissions before COP27 to align with the Paris goal, but only 25 of the 194 have come up with improved commitments.
It is expected that South Africa and Indonesia will announce funding plans to phase out fossil fuels, and it is hoped that more countries will sign up to the methane, finance and deforestation pledges drawn up at COP26.
COP27 will also host one of three technical reviews as part of the "global stocktake" (GST). This is where countries review whether their plans are strong enough to prevent temperatures rising above 1.5C, using analysis prepared by UN officials and scientists.
It is hoped the process will strengthen the case for further action.
What about promises to help poorer countries?
The Paris Agreement restated a commitment made in 2009 that the world's richer countries should provide $100bn (£87bn) annually by 2020 to help developing nations deal with the effects of climate change, and build greener economies.
For many countries, this is the biggest issue to resolve at COP26 - and the very poorest are urging action.
Developing countries are also demanding that "loss and damage finance" be included as an agenda item. This is specific compensation to cover losses they are already incurring from the effects of climate change.
But developed nations fear any agreement would suggest they accept liability for global warming and would be tied into decades of repayments.
Did the Paris Agreement go far enough?
Although the Paris Agreement laid out a clear target point, it did not contain the specific detail on how to reach it.
The ambition is to create a "net zero" world by 2050. That means reducing greenhouse gas emissions as much as possible, and removing any remaining emissions from the atmosphere, through natural or artificial processes.
Scientists argue it is vital to assess the progress being made towards that goal every year.
The UN group of climate experts, the IPCC, has estimated an annual budget of carbon emissions the world can release before temperatures rise above 1.5 degrees, measured in gigatonnes of CO2 equivalent (GtCO2e).
In 2018, the IPCC estimated that the world should only release 25-30 GtCO2e per year by 2030.
The priority of COP27 will be to develop a specific plan of action to bring that figure down, and - as in Paris - secure international support for the way forward.