BBC team caught in Etna explosion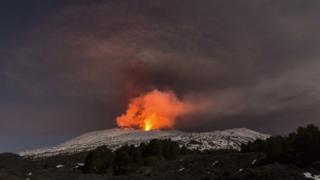 A BBC team and a group of tourists have been caught up in an explosion on Mount Etna that resulted in a number of injuries.
Reporter Rebecca Morelle and colleagues were filming on the mountain when lava came into contact with snow, throwing fragments of rock in all directions.
"Some head injuries, burns, cuts and bruises," our correspondent tweeted.
"Volcanologist said [it was the] most dangerous incident experienced in his 30-year career."