Bloodhound supersonic car fires up Eurofighter engine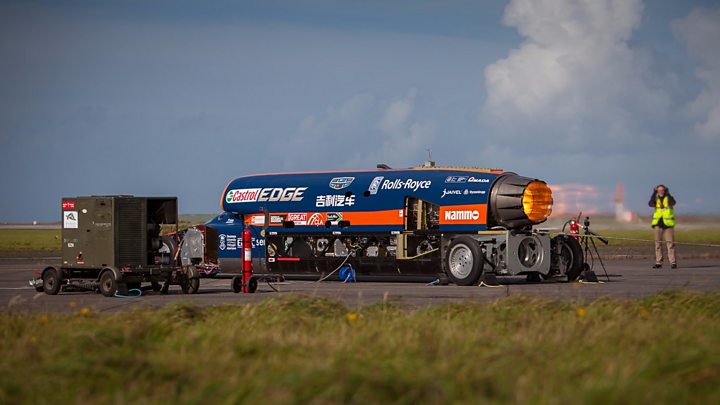 The Bloodhound supersonic car has been fired up for the first time - and worked a treat.
Engineers turned over the vehicle's Eurofighter jet engine in a "tie-down" test at Cornwall's Newquay airfield on Friday.
It worked flawlessly, sending a big orange flame out of the rear nozzle.
The intention is for the car to begin some "slow-speed" running - about 200mph (320km/h) - at the end of next month.
The team had been concerned that the Rolls-Royce EJ200 power unit might have some operational difficulties being in a car as opposed to sitting in a fighter aircraft.
But when driver Andy Green flicked the switches in his cockpit, the engine lit up and performed exactly to its specification.
It was proof also that all the car's electronic systems, its computers, and software were working as designed.
"It's blown us away, frankly," Wing Commander Green told BBC News.
"It's given us huge confidence going forward. We now know the engine has no limits just because it's in a car. It is an EJ200 with the full performance envelope available to us, under all conditions, from stationary onwards."
October's slow-speed running should have paved the way for an attempt on the world land speed record in 2018, but it looks now as though the project will have to slip another year.
Bloodhound SSC will race in South Africa on a specially prepared, dried-out lake-bed, using both the jet engine and a rocket motor.
The aim is to lift the current record of 763mph (1,228km/h) to 800mph (1,288km/h), and then eventually to take it above 1,000mph (1,610km/h).
However, the conditions at Hakskeen Pan in Northern Cape are really only suitable for running in the period from July to November - and getting the car fully prepared to meet this window in 2018 is now seen as unachievable.
In part, this is because there are still technical challenges to do with Bloodhound's rocket motor.
This is coming from the Norwegian aerospace company Nammo, and the development work must fit in around the firm's commercial business, which has extended the timeline.
But the Bloodhound project also has to function within its privately generated budget, and although some big sponsorship deals have been signed recently, engineering can only proceed at the rate cash comes into the venture.
The decision has therefore been made to wait until 2019 to begin the assault on the land speed record.
Nonetheless, the team hopes Friday's static test, and the initial runs set for 26 October, will be visible proof that Bloodhound is in good shape.
Andy Green said: "Today has been a demonstration that with just a little bit of resource in place we've delivered exactly what we said we would, when we said we would.
"And based on what I've seen today from the EJ200, we are going to over-deliver - 26 October won't be just a show of a fast car, it will be a spectacular show of a car that's going to astonish people."
Jonathan.Amos-INTERNET@bbc.co.uk and follow me on Twitter: @BBCAmos