Hurricane Maria devastation prompts Ocean XPRIZE rethink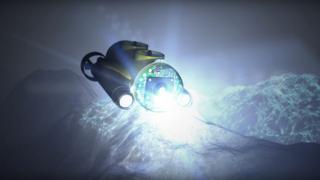 September's Hurricane Maria has disrupted a major competition to find innovative ways to map the seafloor.
The Shell Ocean Discovery XPRIZE was due to hold a demonstration of new robotic systems off Puerto Rico.
But September's huge Atlantic storm caused extensive damage to the US territory's infrastructure, forcing the organisers to rethink plans.
Competing teams will now have to showcase their mapping technologies in waters of their choice.
These are likely to be in some offshore area or even in a lake close to the groups' home countries.
The surface of the Moon and Mars is mapped to a higher resolution than the seafloor on Earth.
The $7m Shell Ocean Discovery XPRIZE is designed to find the new approaches and survey equipment that can rapidly reverse this situation.
"The devastation on Puerto Rico was island-wide, and our base of operations also took a hit," Jyotika Virmani, prize lead and senior director of the XPRIZE Planet and Environment team, told BBC News.
Dr Virmani said the first priority was Puerto Rico's swift recovery, and expressed the hope that the XPRIZE competition could return to the island at some later date.
Nineteen teams from across the globe are competing for the innovation prize. They have school pupils, university students and professional scientists and engineers among their number.
They are working on a slew of "intelligent" airborne, surface and underwater vehicles to accomplish the tasks that have been set.
Originally, the teams were supposed to showcase their designs in a 2,000m-deep, 500-sq-km test zone off the south coast of Puerto Rico. A high-resolution baseline map had already been made by XPRIZE partner, Fugro, the big international geoconsulting firm that led the search for the missing airliner MH370.
Now, however, a judging panel will visit each competing group on their own "home turf", to inspect the technology-readiness of their solutions.
Deep final
The judges will be looking at 11 criteria.
Dr Virmani explained: "These range from very simple seaworthiness - in other words, does your entry leak? Because if it does it will sink to the bottom - all the way to very complicated matters, such as the action of mapping, data-download and processing. They will also need to demonstrate speed as well."
The inspections will run from late November through to February.
All the teams at this stage will get to share a milestone prize of $1m, and those that satisfy the judges' criteria will be moved forward to a big final.
Originally this was going to be restricted to the 10 most advanced groups, but now if all 19 can show they are ready - all will go through.
The final will see the teams operate at a depth of 4,000m. At least 50% of the 500-sq-km competition zone will need to be mapped at 5m resolution.
A time limit of 24 hours will be set.
Jonathan.Amos-INTERNET@bbc.co.uk and follow me on Twitter: @BBCAmos