Hedgehog numbers 'down by half', warn wildlife groups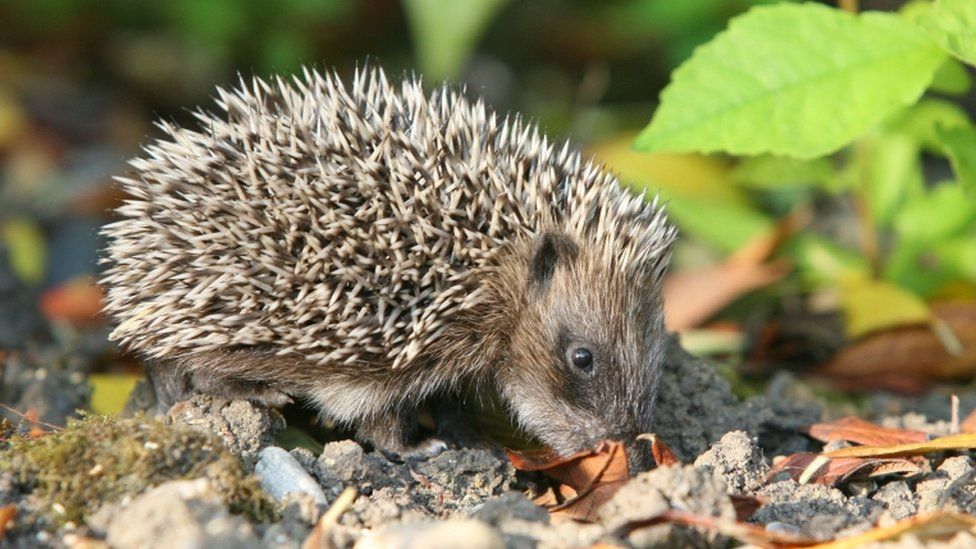 Hedgehogs are continuing to decline in the UK, according to a new report.
Surveys by citizen scientists show hedgehog numbers have fallen by about 50% since the turn of the century.
Conservation groups say they are particularly concerned about the plight of the prickly creatures in rural areas.
Figures suggest the animals are disappearing more rapidly in the countryside, as hedgerows and field margins are lost to intensive farming.
But there are signs that populations in urban areas may be recovering.
David Wembridge, surveys officer for the conservation charity, People's Trust for Endangered Species (PTES), said two surveys of the number of hedgehogs in gardens and one of numbers killed on roads show an overall decline.
But he said there is "a glimmer of hope" that measures to create habitat for hedgehogs in urban areas are paying off.
"Numbers haven't recovered yet but in urban areas at least there's an indication that numbers appear to have levelled in the last four years," he said.
In rural areas, the number of hedgehogs killed on roads has fallen by between a third and a half across Great Britain, The State of Britain's Hedgehogs 2018 report found.
Emily Wilson, Hedgehog Officer for the campaign group, Hedgehog Street, said the apparent decline in the rural population of hedgehogs was "really concerning" .
The loss of hedges and copses to create larger fields has resulted in fewer nesting sites and less protection for hedgehogs, she said.
"This kind of barren one-crop landscape has removed the amount of area that hedgehogs can live in," said Ms Wilson. "The large-scale pesticide use has reduced the amount of food for them to eat - there are fewer invertebrates."
Rough estimates put the hedgehog population in England, Wales and Scotland at about one million, compared with 30 million in the 1950s.
The groups behind the report, the PTES and the British Hedgehog Preservation Society say farming communities can help to halt declines.
Measures to reduce pressures on hedgehogs include providing more field margins, hedgerows and scrubby areas for the animals.
A trial putting wildflowers strips through the middle of fields to encourage insects that prey on crop pests, thereby reducing pesticide use, may also benefit wildlife such as hedgehogs.
And, with the UK leaving the European Union, ministers have indicated that a redesign of the subsidy system could see a shift away from payments for land owned to rewarding wildlife protection.
A Defra spokesperson said: "Hedgehogs are one of the UK's most treasured animals with an important role in our heritage and natural environment.
"We remain concerned about the decline in their population, and through our 25 Year Environment Plan we'll be creating or restoring 500,000 hectares of wildlife-rich habitat to provide benefits for species such as hedgehogs."
Defra said funding through Countryside Stewardship was restoring, extending and linking important habitats, with over 100,000 hectares of new priority habitat created since 2011.
Householders are also being encouraged to help hedgehogs by putting out wet cat and dog food, leaving wild areas for them to nest and making holes in the fence to enable them to move from garden to garden.