Gove lambasts water company chiefs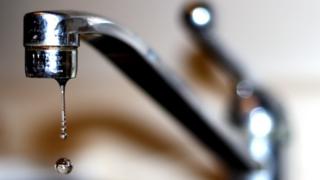 Water firms have been accused of exploiting their monopoly power and neglecting the environment.
The critcism comes from Environment Secretary Michael Gove, who said some firms had paid no tax and hidden their earnings offshore.
And he promised to back the regulator Ofwat in tightening up rules to protect bill-payers and the environment.
The industry body Water UK responded that the companies were dealing firmly with issues that threatened trust.
But Mr Gove's speech to a water industry conference must have made uncomfortable listening.
He complained that water firms had paid out almost all of their £18bn profits to shareholders, instead of re-investing it in mending leaks and protecting the environment.
And he named names: The boss of United Utilities taking home £2.8m a year; the head of Severn Trent, £2.4m.
The secretary of state said last year Anglian and Southern paid zero corporation tax, whilst Thames has paid no corporation tax for a decade.
He suggested: "Some of their best brains appear to be as intent on financial engineering as much as real engineering."
Mr Gove promised to back recommendations from the regulator Ofwat due to be published in April – and said he would not hesitate to increase the pressure.
He told the firms: "You may be private companies, but you have a responsibility to the public who can't take their custom elsewhere."
The politician complained that three billion litres of water still leak out every day - and said the figure has barely improved in the past four years.
He said there had been no investment in new nationally significant supply infrastructure, such as major reservoirs, since privatisation.
Craig Bennett from Friends of the Earth welcomed the comments but said Mr Gove could do much more himself to improve management of water.
"Defra are not doing enough," he told BBC News. "They are still allowing new houses on flood plains – and there is constant backsliding on the need to use water more efficiently."
Dr Matt Prescott from the Environmental Rating Agency told BBC News: "The environmental problems with the industry are a signal of financial problems
"We need effective regulation – it's clearly not happening at the moment. Politicians can't just have an obsession with bills."
Dr Prescott said that during the recent prosecution of Thames Water at Aylesbury Crown Court they found that the Environment Agency did not have direct access to independently sourced pollution monitoring data.
Instead, they had to rely on to water companies to self-monitor pollution levels discharged from sewage works.
"We think these forms of self-regulation should stop," he said.
Water UK Chief Executive Michael Roberts countered that companies were putting public interest first.
"Water is fundamental to all of our lives, and companies fully understand their clear responsibility to act in the public interest," he said.
"For me, that boils down to doing the right thing in the right way, and tackling issues where they arise, because we want to maintain the high levels of trust our customers have for us.
"We know that they trust us, because more than eight out of 10 of them say so in our private polling.
"We should not lose sight of that as we address some of the issues that critics have raised. The industry is working for water, and that works for our customers."