Plea for action on shipping emissions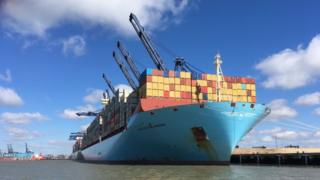 Talks on the global shipping industry cutting greenhouse gases have opened with a passionate plea for action.
A minister from the Marshall Islands warned that the future of his low-lying Pacific country was at stake.
The shipping industry generates more than 2% of global CO2 emissions but that's projected to increase rapidly.
More than 100 countries are meeting at the International Maritime Organisation in London to try to agree on a new policy.
Battle lines are drawn between countries determined to see deep cuts in shipping's greenhouse gases and those that fear that rapid limits could damage development.
Shipping was exempted from the Paris Agreement because it involves an international activity and the agreement was based on a system of national targets.
But the industry currently produces a higher level of carbon emissions than Germany and, if it was ranked as a country, it would be the sixth largest emitter on the planet.
CO2 dilemma
Speaking to the gathering of more than 1,000 diplomats and shipping industry executives, David Paul, environment minister of the Marshall Islands, said that shipping was a major source of income for his country which had the second largest number of ships registered.
But he said the economic gains of protecting one sector would be "far outweighed" by the costs of failing to achieve the limits in temperature rise set out in the Paris Agreement.
"There will be nothing more devastating to global trade than the cost of having to try to adapt to a world that is on average two, three or four degrees warmer," Mr Paul told delegates.
And he said that the argument that climate action could undermine economic growth was "completely and utterly false".
A draft proposal for an agreement, negotiated during preliminary negotiations last week, came up with a target of cutting shipping's emissions by 50% by 2050, when compared to 2008 levels.
Mr Paul said that goal represented "significant compromises" for his nation and he warned that he would not endorse any agreement that did not include "an explicit quantified level of ambition".
"I will not go home to my children, and my country's children, endorsing an outcome from the IMO that fails to face up to the greatest threat of the century," he explained.
But a number of countries. including Brazil, Panama and Argentina. are resisting moves to enshrine a detailed target for cutting emissions, fearing that it might jeopardise important sectors of their economies.
Brazil argues against fixing a goal right now because 90% of its international trade is carried by shipping and because its geographic position means it is very distant from major markets so a limit on emissions would be unfair.
The Brazilian ambassador to the IMO, Hermano Telles Ribeiro, told BBC News: "We are very mindful of the fact that no measure should discriminate against exporting countries and no measure should eventually favour other exporting countries because they are close to their markets and their destinations."
There are innovations to make engines cleaner and design ships to run more smoothly through the water or operate at lower speeds to save fuel, with more radical plans to use hi-tech sails or battery power, as is already being used on some ferries in Scotland and Norway.
But Lars Robert Pedersem of BIMCO, a major association of shipping companies, said that while the "very long term goal" was decarbonisation, vessels were typically in service for 20 years so making changes could be a slow process.
He warned that a goal of decarbonising the shipping sector by 2035 or by 2050 was unrealistic, especially given that ship owners were cautious about new technologies.
He told me: "Shipping is a very practical business - there is no need to set a target which we already now know is impossible to fulfill."
The UK government's shipping minister Nusrat Ghani said: "The eyes of the world are upon us in what is a crucial week for the future of the shipping industry and our planet.
"Shipping has always been at the forefront of technological change, and needs a clear signal to invest in a zero emissions future.
"I urge all IMO member states to support the UK in its call for an ambitious and credible strategy that will open new opportunities in green technologies and fuels and ensure shipping plays its full part in global efforts to reduce greenhouse gases."
Although shipping was excluded from the Paris Agreement, the IMO has since agreed to establish a road map to decarbonisation and its secretary general, Kitack Lim, said the organisation now stood "at one of the most historic moments" in global efforts to combat climate change.
No doubt aware of the deep divisions in the gathering, he appealed to delegates "to break new ground and to demonstrate the best cooperative spirit…"
The talks are due to end on Friday.
Follow David on Twitter.