100 Women: 'Record number' of Nepalese women climbing Everest this season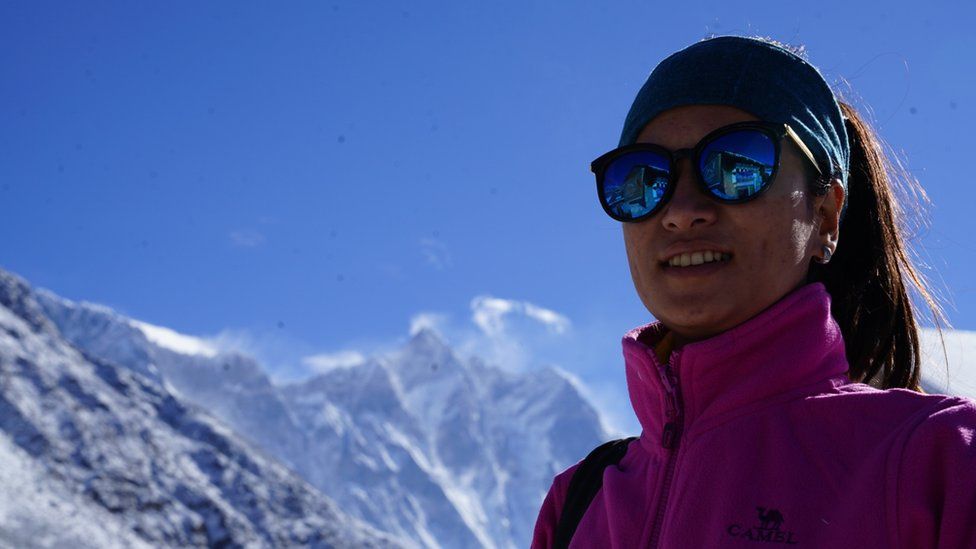 A record number of Nepalese women are climbing Mount Everest this spring season, officials have told the BBC.
Fifteen Nepalese women are planning to climb from the Nepali side, with just five male Nepali climbers so far.
The last time a large number of Nepalese women climbed Everest was in 2008, when all 10 reached the summit.
Many of this year's female climbers want to use the opportunity to bring attention to gender and environmental issues.
"The female climbers in our team have two different messages - to stop female trafficking, and to remind the world that the Buddha was born in Nepal," Sharmila Lama told the BBC from the Everest base camp.
Trafficking has become a serious issue in Nepal.
Rural girls are lured by traffickers, who promise them employment in other countries. Instead, they are sold abroad into the sex trade.
Some of the areas hit by the 2015 earthquake are particularly rife with trafficking, reports suggest.
"We are also trying to amplify that Nepal is the birthplace of Buddha," says Ms Lama.
"Time and again, some people seem to misinform the world by saying that he was born in India."
She says the team a facing a huge challenge.
"It is difficult for us to work in this altitude because we are not from here [the Himalayan region].
"I have a headache now but it has been just few days and I'm sure we will acclimatise soon and be able to start climbing."
Ms Lama is a trekking guide herself and the rest of her team is made up of a mixture of professional mountaineers and amateurs.
One of these is photojournalist Purnima Shrestha.
She has already exhibited her photographs of "smiling Nepali women" at Everest base camp and plans to do the same on the mountain's summit.
Last year she photographed a marathon in the region, sparking her interest in the subject.
"When I went back to Kathmandu and said I would climb Mount Everest next season, people started making fun of me," she says.
"They said if all those who reached the base camp started climbing the highest peak then we all would become Everest climbers."
But the comments didn't deter Ms Shrestha from chasing her dream.
The 27-year old climbed the eighth highest peak - Mount Manasalu - in central Nepal last year.
"My confidence rose and I am back at Everest now."
A team of five female journalists has also garnered media attention in Nepal.
"We want to inspire women to show that they are capable of doing anything," says Rosha Basnet.
"Because we are journalists, we also plan to highlight social and environmental issues through live broadcasts from the base camp and the summit of Everest."
Another team member, Kalpana Maharjan, had to abort her attempt to climb Everest two years ago after she fell ill during an expedition.
"Everyone said it was not meant for me but I didn't give up. I climbed another mountain last year without letting my family know," she says.
"I told them about the expedition only after I was successful.
"Because of that, I have been allowed to climb Everest this time."
The other all-women team has three members, all from the Sherpa community.
People from a Sherpa background are regarded for their expertise, knowledge and skills when it comes to navigating the high altitudes of the Himalayan region.
The woman who holds the record for the largest number of Everest ascents is also a Sherpa from Nepal, who now lives in the US.
Lhakpa Sherpa broke her own record last year and reached the highest point on Earth for the eighth time.
Other stories you might like:
Between 1975 - when Junko Tabei of Japan became the first woman to climb to the top of Everest - and 2016, 323 women climbers successfully reached the summit, according to Nepal's department of tourism.
However, the government agency does not have figures for the total number of women who have attempted the ascent over the years.
The Himalayan Database, an organisation that chronicles all expeditions in the Nepali Himalayas, shows that 918 women tried to climb Everest between 1998 and 2017 and 494 were successful.
This includes 35 of the 44 Nepali women who attempted it.
A total of 3,195 men have reached the top of Everest, including 135 Nepali men.
The database counts ascents from both the Chinese and Nepalese sides.
The record number of Nepali women trying to climb Everest comes amid concerns over increasing numbers of climbers on the world's highest peak.
The current season has just begun and will last until the end of May. It will see about 350 climbers gather at the base camp, according to tourism officials.
The Himalayan Database shows a record 665 climbers, including support staff, reached the top of Everest in 2013 spring, sparking debates about whether less experienced people should be allowed to climb the highest peak.