Madagascar emerges as whale shark hotspot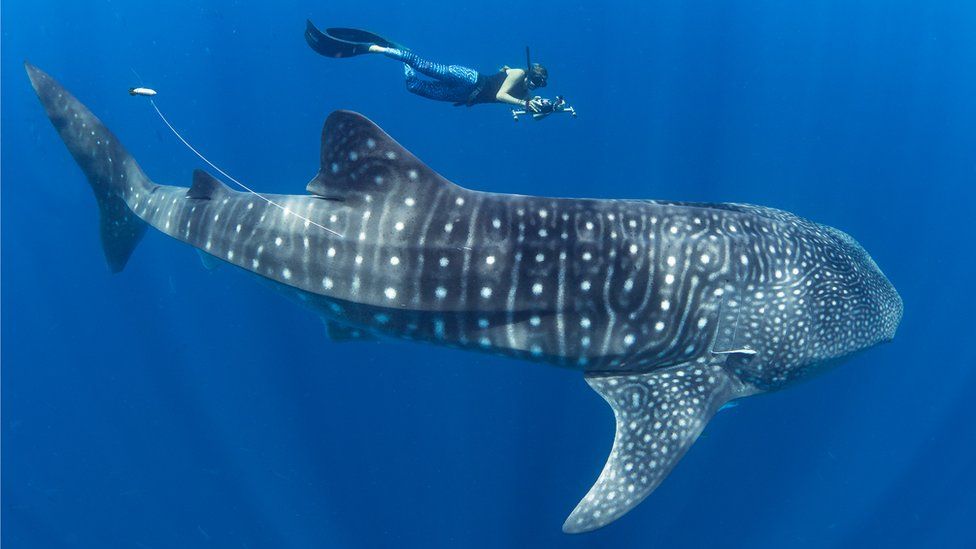 Large numbers of endangered whale sharks have been sighted in waters off Madagascar.
The first major scientific survey in the area shows there are far more of the huge fish than previously thought.
Eighty-five individuals were identified in a single season from photographs of their distinctive markings.
The coastal waters contain a huge diversity of marine life, including sharks, whales and turtles.
"No one thought there were that many [whale] sharks," said Stella Diamant of the Madagascar Whale Shark Project in Nosy Be, an island off the coast of Madagascar.
"They don't seem to be there all year round - they come back for the food."
Whale sharks, which have unique spot patterns, are known locally as marokintana, meaning many stars.
The marine biologists uploaded photographs of the sharks' markings to a global database of sightings known as the Wildbook for Whale Shark.
They found no overlap with data collected from other feeding areas in the Indian Ocean, suggesting the whale sharks - all juveniles - had not migrated from Mozambique or other neighbouring areas.
Satellite tags attached to the whale sharks to track their movements revealed that half of the tagged sharks visited a second hotspot off southern Madagascar, while five swam over to Mayotte and the Comoros islands.
"It was exciting to see that there is a second hotspot for the sharks in the area," said Diamant, who led the research project.
"Madagascar clearly provides an important seasonal habitat for these young whale sharks, so we need to ensure they are effectively protected in the country."
People travel to see and swim with these gigantic, harmless sharks as part of growing ecotourism industry on the island.
Researchers have drawn up a code of conduct to help protect the whale sharks from human interference.
"These sharks can be a major asset for the country," said co-author Dr Simon Pierce, principal scientist at the Marine Megafauna Foundation. "There's already a good marine ecotourism industry developing," he added.
The whale shark, (Rhincodon typus), the world's largest fish, is classed as globally endangered on the RIUCN RedList.
Over the last decade, populations have declined dramatically globally, due to overfishing, accidental catches and boat strikes.
The vast majority of the fish are found in the Indo-Pacific, where numbers have declined by more than 50% over the last 75 years.
A smaller population found in the Atlantic is also in decline.
The research is reported in the journal, Endangered Species Research.