Key 'step forward' in cutting cost of removing CO2 from air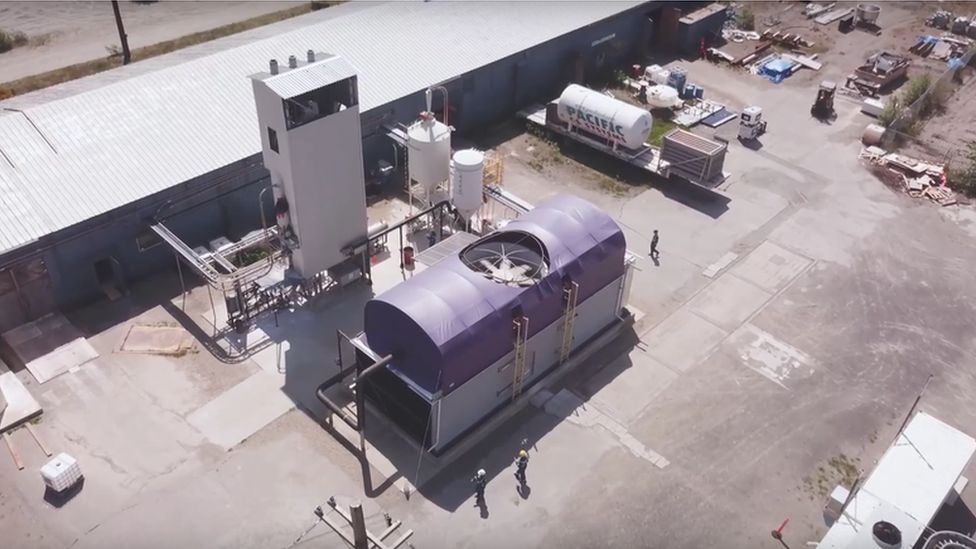 A Canadian company, backed by Bill Gates, says it has reached an important threshold in developing technology that can remove CO2 from the air.
Carbon Engineering has published a peer-reviewed study showing that they can capture carbon for under $100 a tonne.
This would be a major advance on the current price of around $600 per tonne.
The company says their immediate goal is to produce synthetic liquid fuels made from carbon and renewable energy.
Technological "fixes" to the carbon emissions driving climate change have always been regarded with some suspicion by scientists.
Plans to build solar shields in space or to seed the seas with materials to soak up carbon have been seen as dangerous and a distraction to the more mundane but difficult task of getting people to cut their emissions.
However, plans to capture CO2 directly from the air have been regarded as somewhat more substantial - essentially mirroring the actions of trees.
Now, Canadian firm Carbon Engineering say they have taken a big step forward on cutting the costs of direct air extraction.
Set up in 2009 with funding from Microsoft's Bill Gates and Canada oil sands financier Norman Murray Edwards, their pilot plant has been running since 2015, capturing about one tonne of CO2 per day.
The process works by sucking air into a modified cooling tower with fans, where it comes into contact with a liquid that reacts with the CO2.
After several processing steps, a purer stream of CO2 is extracted and the capturing liquid is returned to the air contactor.
"This is a real step forward, and it's not just our company saying it," Prof David Keith from Harvard University, and a founder of Carbon Engineering told BBC News.
"I hope this changes views about this technology from being this thing which people think is a magic saviour which it isn't, or that it is absurdly expensive which it isn't, to an industrial technology that is do-able and can be developed in a useful way."
Prof Keith's "useful way" is not to simply suck carbon out of the air but to use the extracted gas as a key raw material for synthetic liquid fuel. The company is currently making around one barrel a day by combining the pure CO2 with hydrogen derived from water, using renewable energy.
"What Carbon Engineering is taking to market is first of all carbon neutral fuels, in that sense we are just another emissions-cutting technology, there is no net removal from the atmosphere," he said.
"We see our long-term fuels plant as being roughly 2,000 barrels a day, but the next one we build will be the first real commercial plant but will be 10 times smaller than that - we are developing that right now, looking for very cheap solar or wind power and looking for investors."
The firm believes that this approach to liquid fuel has major advantages over biofuels in that it uses far less land and water. Prof Keith said that if their fuel gets the same subsidies as other carbon neutral approaches then they will be able to raise funds and build plants very quickly.
Others in the industry welcomed the fact that Carbon Engineering were bringing down costs, but felt that further incentives from governments were needed for carbon capture, utilisation and storage to achieve its potential.
"Although direct air capture cost of around $100 per tonne is still somewhat steep, in our current situation where sticks and carrots for similar technologies are sorely lacking, the cost can only be brought down through further development and streamlining of individual technologies and conjugated processes," Edda Sif Aradóttir, from Reykjavik Energy told BBC News.
"The biggest challenge we are facing is, however, that the words agreed on in the Paris agreement must be followed by actions. The technical solutions to climate change are already available but national legislations do not provide enough incentive or obligations for them to be applied at a large scale. This must change quickly if we are to fulfil the Paris agreement," she explained.
Those involved with Carbon Engineering are acutely aware of the challenges. Prof Keith said there "are a hundred ways in which we can fail".
However he believes the question of decarbonising aviation and heavy transportation cannot be met by electric vehicles alone.
"For liquid fuels we need better answers, this approach, CO2 from the air plus hydrogen you get from renewables to make fuels, that's the pathway."
The study has been published in the journal Joule.