Can music festivals go green?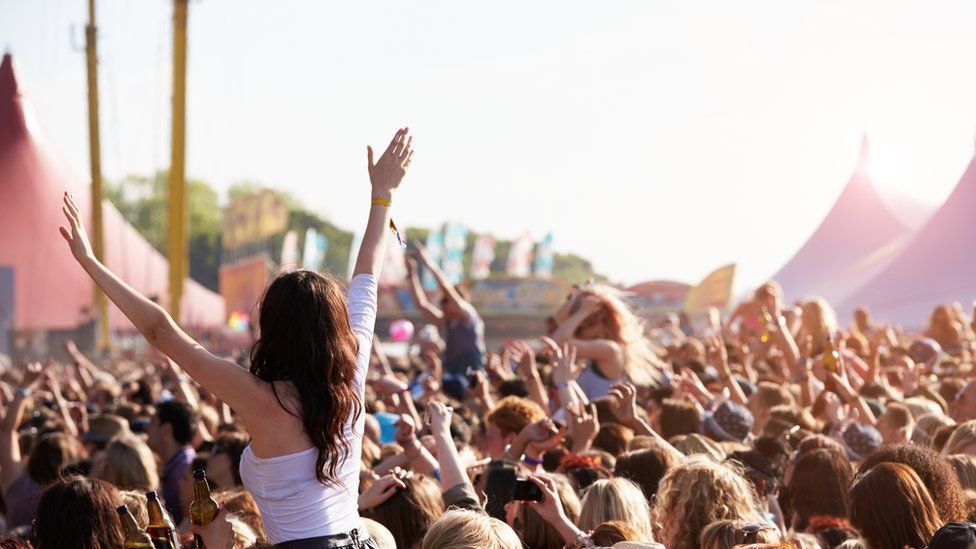 When people are rushing between headliners at festivals, the last thing on their minds might be how to recycle their food containers, or where they put their reusable cup.
But, with more and more focus on going green, festivals across the UK are pledging to cut back on plastics, leftover waste and even glitter.
So, BBC Reality Check asks - what are the biggest environmental impacts of festivals and what's being done to combat them?
And similarly, audience travel to and from sites tends to make up most of a festival's carbon footprint. Cars, lift shares and trains are the most popular forms of transport.
Festival goers might not want to take public transport while carrying the weekend's supplies on their backs. But, with UK audience numbers hitting nearly four million in 2016, live music events might need to take further steps to reduce their emissions.
Most major festivals recommend lift sharing and using a shuttle bus or subsidised local transport to try to minimise the amount of traffic.
Roughly 23,500 tonnes of waste are produced annually at UK music festivals, according to estimates by Powerful Thinking, a think tank focused on the festival industry.
Of that, around a third is recycled, while the rest goes into landfill.
"All festivals have ecological footprints: they consume energy, water, food and materials, and they produce waste and carbon emissions," the think tank has said, although it adds that four out of five festival organisers it surveyed did have an environmental policy in place.
A number of campaigns have been set up to try to tackle tents being left behind on festival grounds.
Glastonbury-goers can take the Leave no Trace pledge to take all of their belongings home, while other organisers have signed up to the Love Your Tent campaign, which encourages festival goers to invest in high-quality camping gear and to reuse it.
With big companies like McDonald's, Starbucks and Waitrose committing to cut down on plastic, festival organisers are following suit.
There are 61 independent British festivals, including Bestival and Shambala, which have pledged to ban the use of plastic straws this year.
As part of the Association of Independent Festivals' Drastic on Plastic campaign, the organisers have also said they will rid their sites of single-use plastics by 2021.
Examples of single-use plastic items at festivals include:
Plastic drinks bottles
Plastic straws
Plastic food trays
Cable ties
Toiletry bottles
The association says their focus is on "reuse not single-use" and to encourage this they will be selling metal water bottles to encourage festival goers to use fewer disposable materials.
Melinda Watson, founder of sustainability charity RAW, said: "Recycling is important, but it is far from the solution."
According to the research firm Euromonitor, an estimated one million plastic drinks bottles are bought around the world every minute. Fewer than 50% of these are collected for recycling.
Shambala Festival co-founder Chris Johnson said: "There's loads that festivals can do to design out disposable plastics such as adopting reusable cups, banning drinks sales in plastic and encouraging festival goers to bring refillable water bottles."
Since 2004, Glastonbury has required its food and drink sellers to use wood and paper packaging only, which it sends for composting along with food waste.
And Bristol-based festival Love Saves the Day trialled a reusable cup system in 2015 which reduced the number of disposable cups used on-site by more than 150,000.
To glitter or not to glitter?
The festival goers' favourite accessory is often made from plastic too.
Like microbeads - the tiny pieces of plastic often found in products like face washes, which were banned in the UK in January - glitter is a microplastic.
The size makes microplastics an environmental hazard, particularly in the oceans.
Festival and fashion fans alike can purchase biodegradable glitter, if they don't want to compromise on their look.