Saturn moon a step closer to hosting life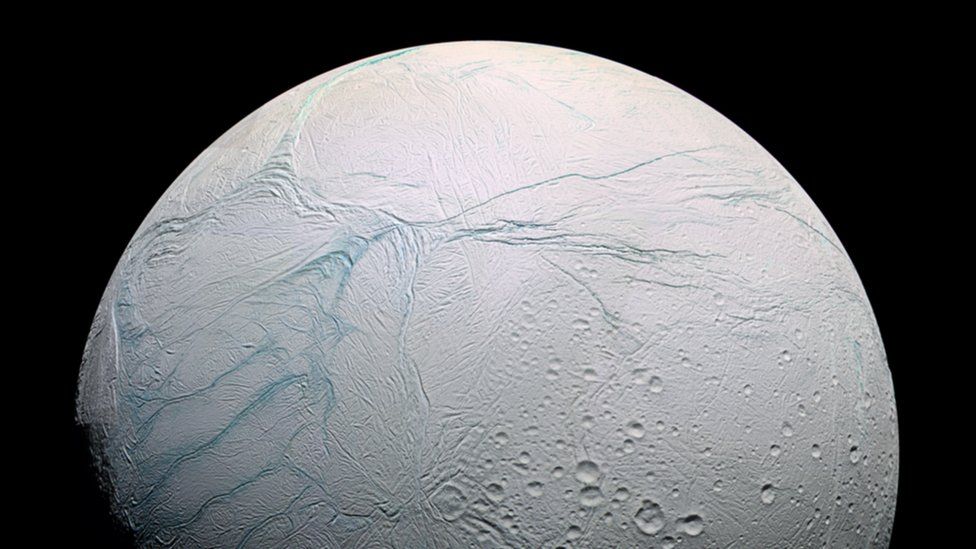 Scientists have found complex carbon-based molecules in the waters of Saturn's moon Enceladus.
Compounds like this have only previously been found on Earth, and in some meteorites.
They are thought to have formed in reactions between water and warm rock at the base of the moon's subsurface ocean.
Though not a sign of life, their presence suggests Enceladus could play host to living organisms.
The discovery came from data gathered by the Cassini spacecraft.
"These huge molecules contain a complex network often built from hundreds of atoms," explains study author Dr Frank Postberg.
"This is the first ever detection of such complex organics coming from an extraterrestrial water-world."
On Earth, these molecules are usually biologically created, but this does not have to be the case.
"They are a necessary precursor to life," says Dr Postberg, "[but] we currently cannot tell if these organics are biologically irrelevant or signs of prebiotic chemistry or even life."
Liquid water
Energy
Organics (compounds containing carbon)
A group of particular elements (carbon, hydrogen, nitrogen, oxygen, phosphorus and sulphur)
Phosphorus and sulphur have not yet been measured on the moon, but it has all of the other ingredients.
The Cassini mission, which ended by plunging into Saturn's cloud-tops last September, was never designed to detect life.
In fact, it was dispatched before scientists even knew about the peculiar jets of water emerging from the south pole of Enceladus.
Cassini first observed them in 2005, after its arrival in the Saturn system.
The technology to distinguish whether molecules like those detected are biological in origin already exists on Earth.
"The next logical step," says Dr Postberg, "is to go back to Enceladus soon with a dedicated payload and see if there is extraterrestrial life."