Two halves of Attenborough polar ship joined together
By Jonathan Amos
BBC Science Correspondent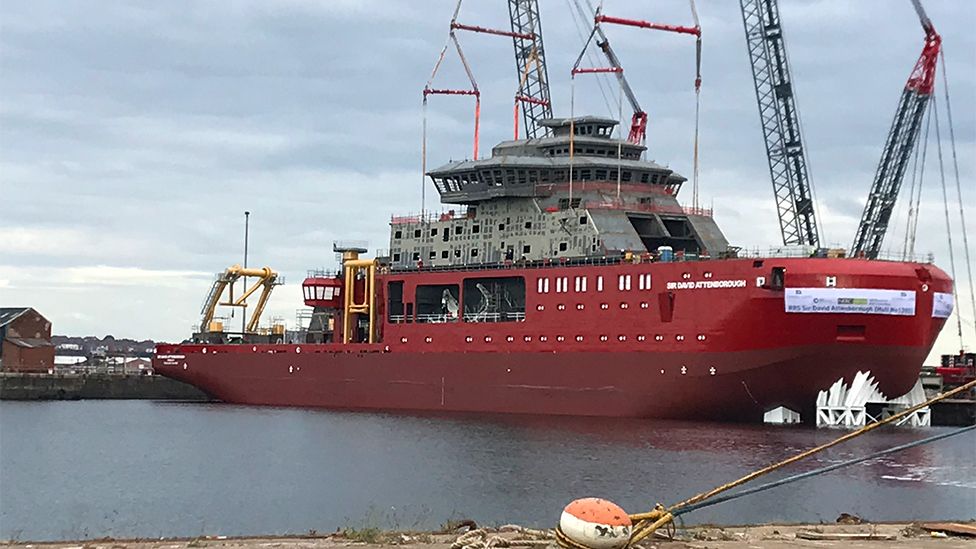 After its dramatic entry into the River Mersey at the weekend, the hull of the RRS Sir David Attenborough has had its upper-decks added.
Cammell Laird engineers lifted the six-deck superstructure into place using two giant cranes.
The superstructure holds accommodation areas, the vessel's bridge and the hangar for its helicopters.
The £200m Attenborough will be used to support British scientists in the Antarctic and the Arctic.
The 129m-long vessel has the ability to push through polar sea-ice up to a metre thick. Cammell Laird moved the 10,000-tonne hull into its "wet basin" in Birkenhead immediately after it came down the slipway from the company's construction hall on Saturday.
The ship will shortly now be moved into dry dock where it will undergo 11 weeks of outfitting.
"The addition of the accommodation block makes this ship 47m high," said Cammell Laird project director John Drummond.
"A lot of detailed work lies ahead before we can switch her on."
It is in the dry dock that the ship will also receive its final paint job, including a special coating on the keel that is both low-drag and eco-friendly.
All vessels working in polar waters now have to meet very strict environmental standards.
Once the outfitting is complete, the Attenborough will then come back into the wet basin for basic systems checks and an official naming ceremony that is tentatively scheduled for November. Deep-water sea trials, which should see the Attenborough head up to the Arctic for a thorough work-out, will begin in early 2019.
The ship will be operated by the British Antarctic Survey on behalf of its funding agency - the Natural Environment Research Council (Nerc).
The acquisition of the new vessel will complete Nerc's fleet upgrade programme, which has already seen the introduction of two new "blue-water" research vessels - RRS Discovery and RRS James Cook.
"Five years ago we turned our attention to our old polar warhorses - the James Clark Ross and the Ernest Shackleton - and took the view that we could combine them into one, and the Attenborough is the result," explained Nerc executive chair, Prof Duncan Wingham.
"We will get economy whilst also maximising science. Tonne for tonne, Nerc now has the most modern and sophisticated research fleet in the world."